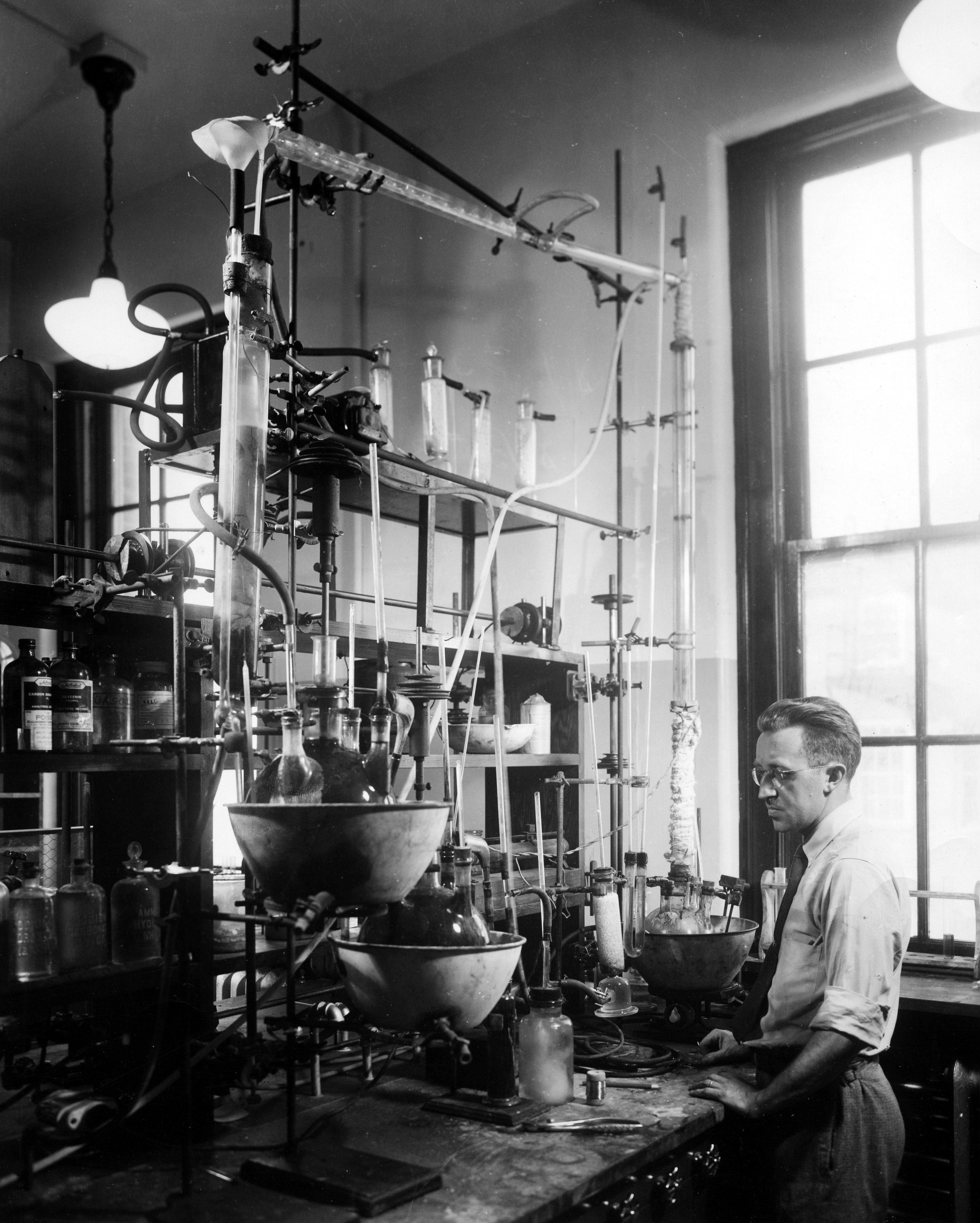 Our guest this #WorkerWednesday is an employee of the Jackson Lab at the DuPont company's plant in Deepwater Point, New Jersey. This ca. 1945 photograph shows the worker with one of the laboratory's apparatus assemblies.
The plant that the lab serviced was established by the DuPont Company in 1892 for the purpose of manufacturing gunpowder. Between then and when it closed in 2018, the site was used to develop, manufacture, and store a wide variety of chemical products, including not only dyes, but also Kevlar, Nylon, Freon, leaded gasoline, and uranium processing for the Manhattan Project.
While explosives production at the plant boomed during the Spanish-American War and World War I, postwar production at the site began shifting to specialty chemical manufacturing, first initiated by DuPont's Organic Chemicals Division, which established the Dye Works on the site in 1916. The site, renamed the Chambers Works in 1944, would continue operating into the early 1990s, but discontinued manufacturing explosives in the late 1970s.
This photograph is part of Hagley Library's collection of DuPont Company Product Information photographs (Accession 1972.341). The DuPont Company created the Product Information section within the Public Relations department in 1952. Its function was to produce news releases with photographs about DuPont and its products for indirect publicity and advertising purposes.
This collection contains photographs of DuPont Company corporate events and proceedings, product trade shows and fairs, development and manufacturing processes, and the employees and facilities where the products were created. Most of the photographs were taken from the 1930s through the 1950s. This collection has not been digitized in its entirety, but you can view a selection of images online now. Just click here to visit its page in our Digital Archive.