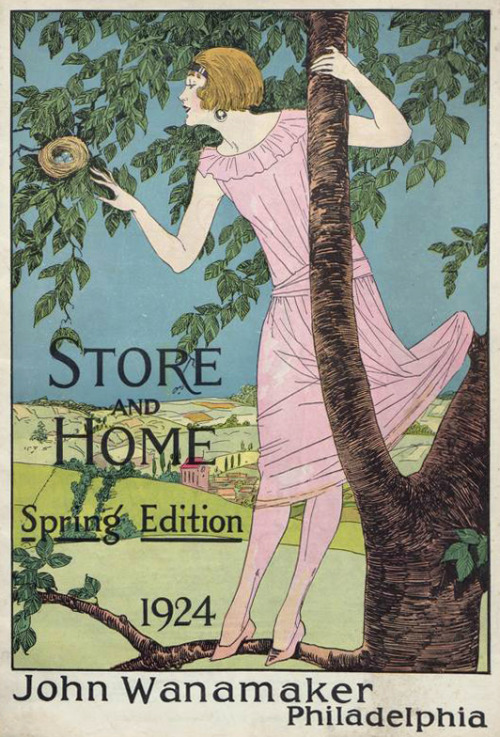 Today's #FashionFriday post sees us preparing for tomorrow's Spring Equinox, the beginning of the beginning of astronomical spring in the Northern Hemisphere.
Opened by marketing pioneer John Wanamaker (1838-1922) at 13th and Market Streets in Philadelphia, Pennsylvania in April, 1876, Wanamaker's department storewas one of America's first modern department stores. His goal was to revolutionize the experience of shopping, turning a mundane activity into a grand event.Wanamaker's was well-ventilated, decorated with contemporary art, with large rooms that, after 1911, included a 150-foot-high Grand Court featuring attractions like the world's second largest organ and a great eagle from the 1903 St. Louis World's Fair.
The store was the first department store to feature electric lighting (installed in 1878), the first to adopt the telephone (in 1879), and the first to install a pneumatic tube delivery systems for transporting documents and cash deposits throughout the building (installed in 1880).It also relied on innovations in customer service and marketing, including the substitution of of haggling for prices in favor of a set sales price. This decision was partly due to Wanamaker's desire to make shopping a more pleasurable, less adversarial experience. But it was also informed by Wanamaker's devout Presbyterianfaith, which led him to decide that "if everyone was equal before God, then everyone should be equal before price".
Wanamaker's Spring 1924 catalog is one of many in Hagley Library's published collections. To view it and others that have been digitized for inclusion in our Digital Archive, just click here.