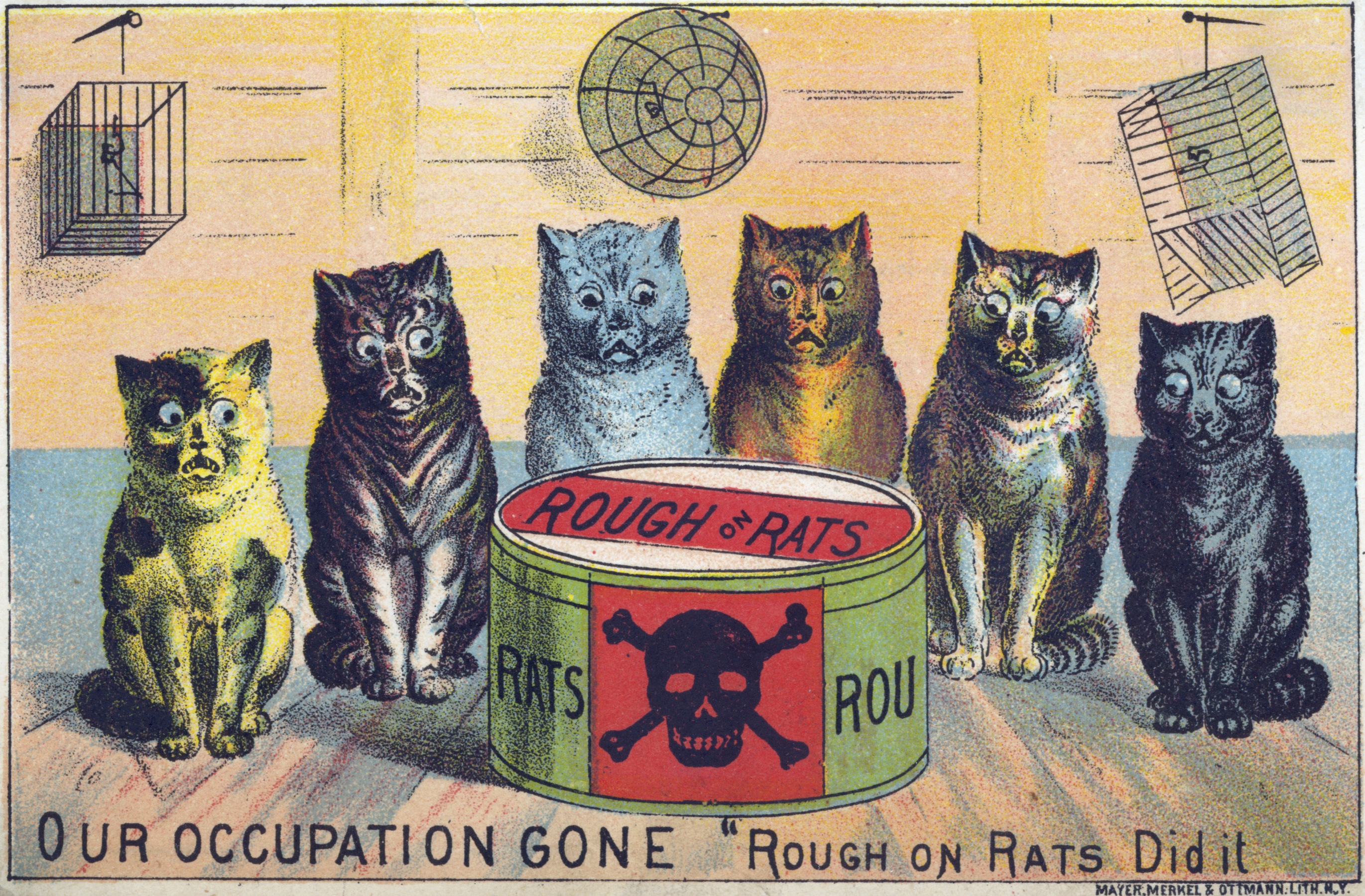 Today's #TradeCardTuesday comes courtesy of the E.S. Wells Medical Company. The firm manufactured a strange combination of products: medicines for the general public, as well as rat poison.
The company's founder, Ephraim S. Wells (1841-1913) migrated from West Virginia, where he had apprenticed to a druggist, to New Jersey in 1862. There, he worked for a time in L.B. Bowie's Drug Store in Uniontown before purchasing two drugstores in Jersey City and, eventually, a manufacturing plant for his remedies. 
Wells' most popular products, which were marketed nationwide, included Worm Syrup, Rough on Corns, Rough on Toothaches, and Rough on Rats, the product featured in this undated advertising card.
Wells claimed that his Worm Syrup treated feverishness (in humans, not in rats), restlessness, and constipation, and would expel worms from the body. It was described in advertising as "sweet and nice". Rough on Rats poison, meanwhile,  claimed to rid your house of rats, mice, roaches, flies, beetles, moths, ants, skunks, weasels, gophers, moles, and muskrats. Wells began marketing the product in 1872.
This item is part of Hagley Library's Helen Baker Cushman picture collection (Accession 1998.27). Helen Baker Cushman (1922-) was the founder and manager of H.M. Baker Associates, consultants in business archives and records from 1958 to 1993, headquartered in Westfield, New Jersey. Originally structured as a simple clipping service, most of the illustrations were drawn from Cushman's own collection of old popular magazines, photographs, letterheads and trade cards.
These initial contracts with companies led to Cushman's involvement in larger contracts, such as collaborating on several book-length company histories and serving as a consultant in the initial setting-up of in-house corporate archives. As a public relations consultant, Cushman also assisted various companies with newspaper publicity, magazine features and other public relations services.
In the course of conducting her business, Cushman amassed extensive notes and collected a wide variety of business publications, trade cards, ephemera and other business memorabilia, which now makes up this collection at Hagley.