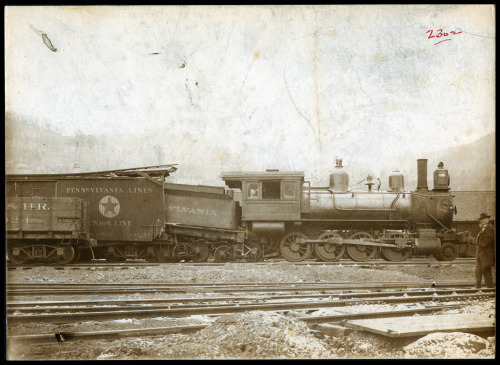 Today's train wreck of a post features photographs taken on this date, March 1st, in 1906, showing the aftermath of a railroad accident at Emporium, Pennsylvania. The accident, which occurred on the same day, occurred when a Pennsylvania Railroad locomotive tender backed into a box car carrying dynamite manufactured by the Emporium Powder Manufacturing Company. The March 3rd edition of the Philadelphia Inquirer noted that "there was no explosion for some unaccountable reason, and Emporium is still on the map".
These photographs are part of Hagley Library's DuPont Company Museum collection (Accession 1968.001). The materials in this collection were originally compiled by the DuPont Company Museum and document the history of the DuPont Company.
The collection has not been digitized in its entirety; the online collection is a curated selection of items. Among other subjects, the image depict the 1901 Pan-American Exposition in Buffalo, New York; the construction of Coleman du Pont Road; production of Phenolin; game birds advertising series; Haskwell Works explosion aftermath, cartoons of employees; a female employee baseball league; and company plants at Old Hickory, Tennessee and Farmingdale, New Jersey. Click here to view the collection in our Digital Archive.