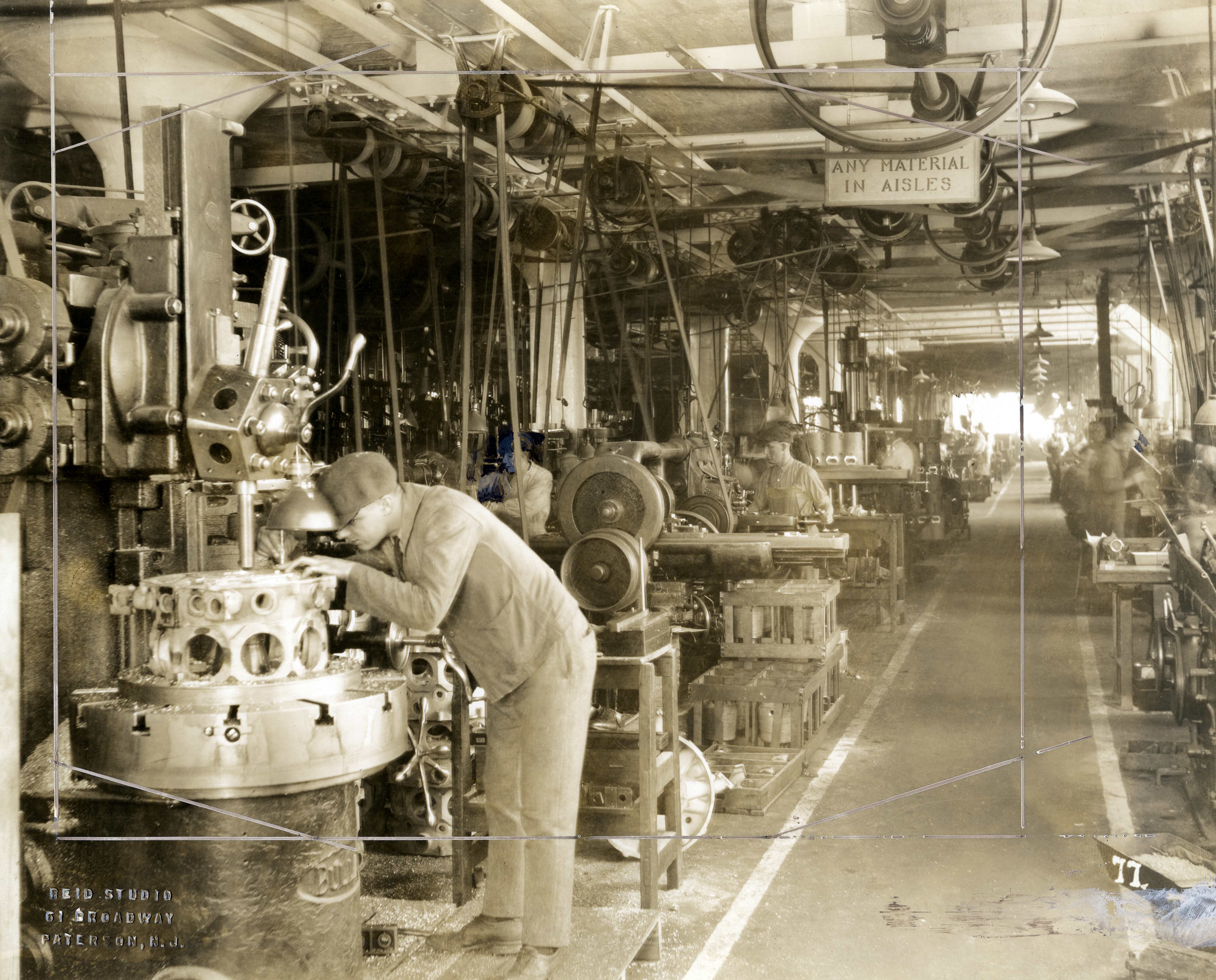 Today's #WorkerWednesday excursion takes us inside the machine shop of the Wright Aeronautical Corporation, where an employee is conducting drilling operations on the Wright "Whirlwind" motor. The company, which operated out of Paterson, New Jersey from 1919 to 1929, was an aircraft and aircraft engine manufacturer that emerged out of the Wright-Martin Company when its partnership between aviation pioneers Glenn L. Martin (1886-1955) and Orville Wright (1871-1945) dissolved. The company later merged with the Curtiss Airplane and Motor Corporation to form the Curtiss-Wright company.
The Wright Whirlwind line was one of the company's more popular products; a collection of air-cooled radial aircraft engines in five-, seven-, and nine-cylinder models. The product was the first commercially successful radial engine and became a popular choice for early aviators after the J-5 model was used by Charles Lindbergh in his Spirit of St. Louis airplane for his celebrated flight across the Atlantic Ocean in May 1927.
This photograph is part of the 'Aviation' suberies of Hagley Library's collection of Chamber of Commerce of the United States photographs and audiovisual materials (Accession 1993.230). The Chamber of Commerce of the United States is the world's largest business organization representing the interests of more than 3 million businesses of all sizes, sectors, and regions. Chamber members range from small businesses and local chambers to leading industry associations and large corporations. The Chamber traces its origins to an April 22, 1912, conference of commercial and trade organizations called by President William Howard Taft. The goal was to form a national group to advise the government on issues facing industry and business throughout the country.​
This collection contains photographs, negatives, slides, digital images, sound recordings, videos, and films that document the history of the Chamber from its founding to the twenty-first century. The materials provide a record not only of the activities of the Chamber but also of the political landscape surrounding key issues related to business. The collection focuses on the legislation, regulations, and litigation impacting the economy, immigration reform, pensions, health care, trade, Social Security, air quality, global warming, workplace safety, and taxes, as well as major industries such as energy, aviation, automobiles, agriculture, transportation,mining, shipping, and technology.​
To view a selection of photographs, videos, and publications from this collection in our Digital Archive, just click here.​