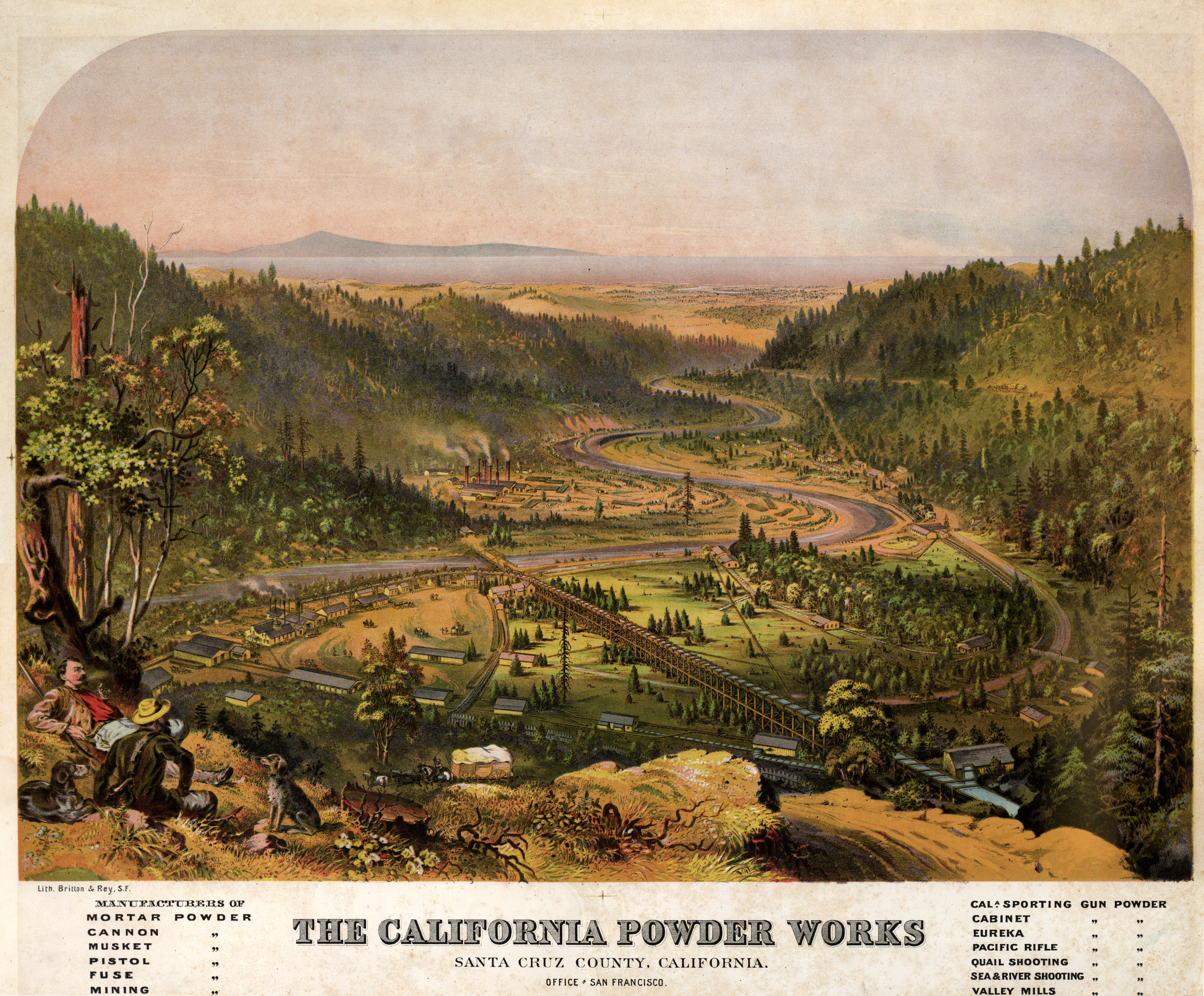 We're taking a visit today to the green hills of the California Powder Works. This ca. 1875 lithograph looks out over the company's manufacturing facilities in Santa Cruz County, California.
The illustration was the work of the Britton & Rey company, a San Francisco company that became a prolific producer of views of California during the second half of the 19th century. The company was founded around 1852 by Joseph Britton (1825-1901), who traveled to California in 1849 seeking gold, and the French lithographer Jacques Joseph Rey (1820-1892), who arrived in California about a year later.
The California Powder Works was also a pioneer in the history of the American West. When it began manufacturing gunpowder in 1864, it became the first explosive powder manufacturing company west of the Rocky Mountains.
The company became a subsidiary of the DuPont Company in 1903 and adopted the DuPont name after 1906. The site become a key manufacturing site for DuPont's military contracts with the United States Navy's Pacific divisions, but the completion of the Panama Canal significantly changed shipping considerations between the east and west coasts of the nation.  DuPont consolidated its California operations into manufacturing sites in New Jersey and the complex ceased manufacturing explosive powder in 1914.
This item is part of Hagley Library's collection of Lammot du Pont, Sr., papers (Accession 0384). Lammot du Pont (1831-1884) was the grandson of Éleuthère Irénée du Pont de Nemours, the founder of E. I. du Pont de Nemours and Company. He was also one of the most eminent chemists in the history of his grandfather's company.
An engineer by training, he introduced sodium nitrate to the manufacture of powder for blasting and mining purposes and made important improvements in machinery and manufacturing techniques. By 1865, he led all the company's manufacturing units outside of Delaware, and in 1880 he organized the Repauno Chemical Company for the manufacture of high explosives in New Jersey. He was killed in an explosion while conducting experiments with nitroglycerin in 1884.
To view a small selection of items from the Lammot du Pont papers in our Digital Archive, which comprises gunpowder labels, correspondence related to gunpowder explosions, and other business papers, click here.