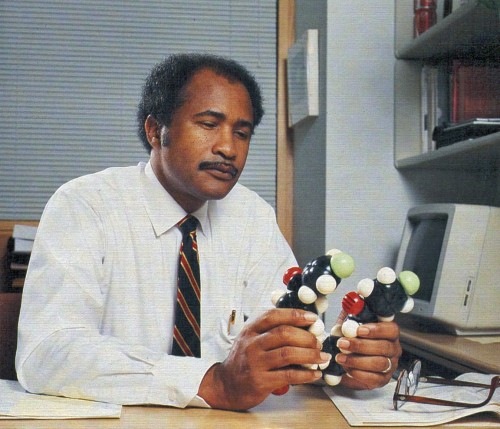 We're excited to announce that tonight, February 24, Hagley, in partnership with Clark Atlanta University andBloomfield College, will be premiering Dr. Wesley Memeger, Jr., Science Into Art, a special documentary chronicling the lifeof Dr. Wesley Memeger, Jr.
Memeger was a long-time DuPont chemist at the Pioneering Research Laboratory. He began working for DuPont's Pioneering Research Laboratory in 1964 and continued his career there until his retirement in 1997. His research enabled the company to streamline the production of Kevlar, a synthetic fiberdeveloped at DuPont by Stephanie Kwolek in 1965, by discovering a faster polymerization process to help scale for industrial production. Memeger and his wife, a fiber artist, are also accomplished artists, with Memeger's work taking inspiration from the geometric shapes found in molecular compounds.
The 40-minute documentary covers Memeger's career and his own personal history. He discusses his childhood as son and grandson of farmers in St. Augustine duringthe Jim Crow era, the role of his two African American chemistry professors at Clark College, an HBCU, in contributing to his success as a scientist, and addresses the challenges of being a one of the DuPont's company's first Black scientists with a doctorate in chemistry during the civil rights era. His reflections on his remarkable career are the first of what Hagley hopes will be a number of oral history interviews with Black pioneers in the STEM professions in the Delaware area.
The documentary will premiere on YouTube at 7 p.m. EST on our YouTube channel and on this website on February 24 and will be hosted by Dr. Jeanne Nutter, Professor of Media Communications at Bloomfield College and an award-winning oral historian. We hope you can join us to celebrate Memeger's many accomplishments spanning his career at DuPont.