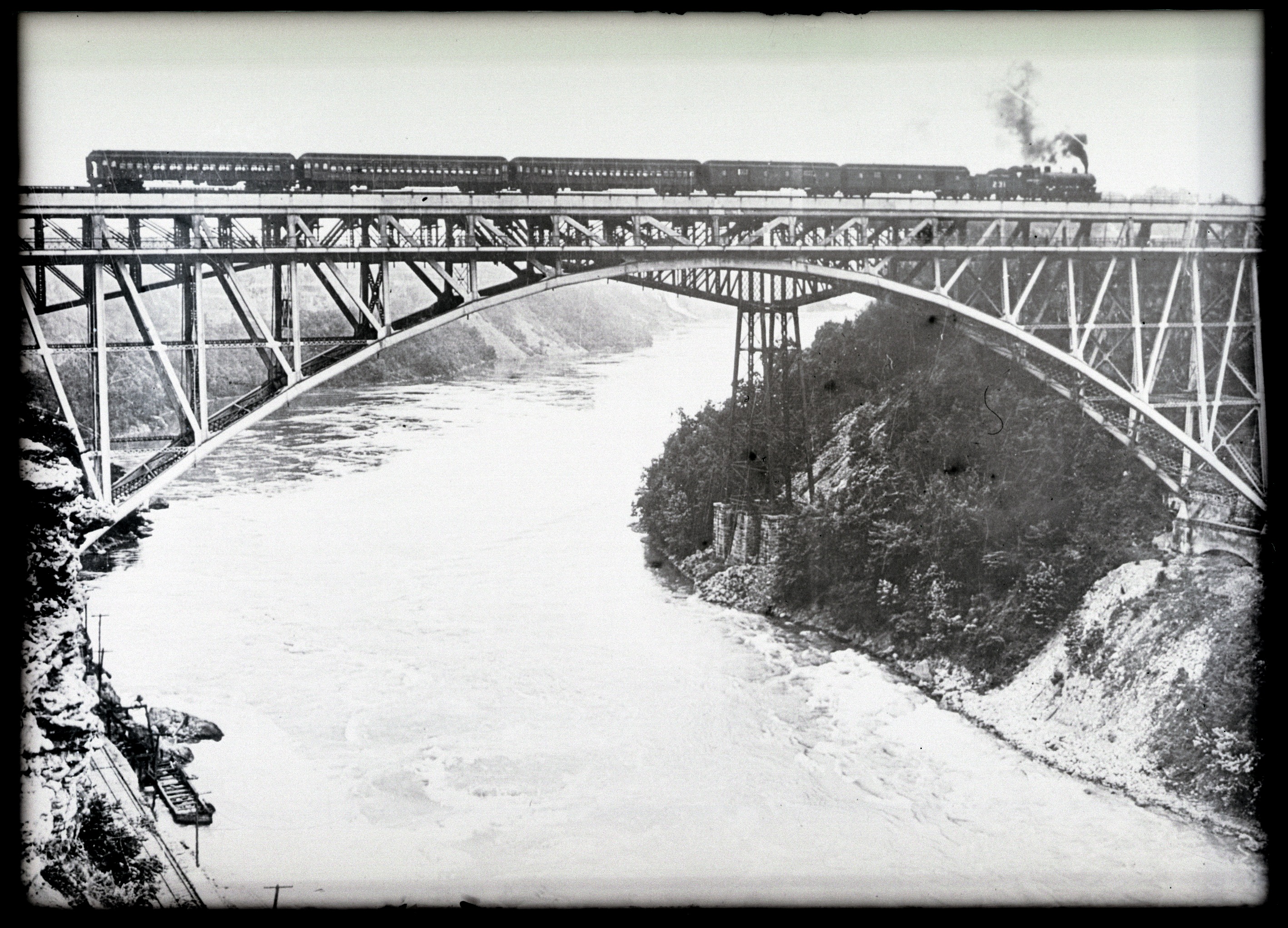 The world's first all-steel railroad bridge went into service on this date, November 1, in 1879. The bridge, built by the civil engineer Gen. William Sooy Smith (1830-1916) for the Chicago & Alton railroad, crossed the Missouri River at Glasgow, Missouri. The 2,700-foot-long five-span Whipple through truss was a marvel for its time but was soon overshadowed by similar constructions; by the 1890s, nearly all new railroad bridges were all-steel construction.
This ca. 1900 photograph shows Engine #231 of the Grand Trunk Railway heading into Niagara Falls, Ontario on the Lower Steel Arch Bridge, a 1,079-foot-long all-steel arch bridge over the Niagara River rapids.The Lower Steel Arch Bridge bridge offered two tiers of transportation. The bottom deck offered transport to carriages, while the top was reserved for the trains operated by the Grand Trunk Railway.
Unlike many of its contemporaries, the Lower Arch Bridge is still in operation. Renovations have reinforced and altered its lower deck to accommodate cars rather than carriages. The years have also seen variations on its name (including the Niagara Railway Arch Bridge, the Grand Trunk Railway Bridge, the Grand Trunk Steel Arch Bridge, and the Whirlpool Rapids Bridge). But the bridge is currently in use by Amtrak's Maple Leaf line for rail travel between New York City and Toronto, as well for by non-commercial private vehicle traffic for members of NEXUS, a pre-screening program for low-risk international travelers.
This image is undated, but would not have been taken before August 27, 1897, when the Pennsylvania Steel Company completed its construction of the bridge, and April 1923, when the image appeared in Vol. 43, No. 4 of National Geographic Magazine's America's Amazing Railway Traffic by William Joseph Showalter.
Behind the Whirlpool Bridge is the Michigan Central Cantilever Bridge, which was the first all-steel cantilever bridge built in the United States. It was constructed by the Central Bridge Works of Buffalo for the Michigan Central Railroad and completed on December 20, 1883.
The tracks for the Great Gorge Route, a trolley belt line operated by the International Railway and Niagara Gorge Railroad are visible in the bottom left-hand corner. This route was a scenic attraction that operated from 1895 to 1935. It ran along the banks of the Niagara River from Youngstown, New York to Niagara Falls, New York before crossing the Upper Steel Arch Bridge to Niagara Falls, Ontario and traveling to Queenston, Ontario.
This image is part of Hagley Library's collection of Locomotives and views of Mauch Chunk contact photographs and negatives (Accession 1969.092), which was purchased as a lot from a dealer in 1969. It includes an array of subjects, though most of the identified images document locomotives, railroad cars, railroad stations, and other railroad infrastructure.
Railroads represented in these images include the Baltimore and Ohio Railroad, Central Railroad of New Jersey, Erie Railroad, Lehigh Valley Railroad, New York Central Lines, Pennsylvania Railroad, Reading Railroad, as well as a small number of other railway companies. The collection also includes landscapes and cityscapes, many of which were taken by photographers William H. Rau (1855-1921) and James Zellner (1836-1897).
All the photographs in this collection are undated, though some of them can be assigned approximate dates based on information available. While several of the dates assigned are questionable or approximate, most of the images in this collection appear to have been captured between approximately 1860 and 1950. Many locations are currently unidentified, but where it is possible to identify the locations in these images, most images document sites in Pennsylvania.
To view this collection online now, click here to visit its page in our Digital Archive.