Xerox's Brother Dominic saves the day, again
During Super Bowl XI in 1977, Xerox debuted perhaps the first "viral" commercial – one that featured "Brother Dominic" – and remains one of the most popular Super Bowl commercials to this day. Brother Dominic was a monk who discovered a not quite miraculous way to produce 500 copies of a handwritten manuscript by using the latest machine Xerox had to offer.
Forty years later and earlier this year, Xerox created an updated version of Brother Dominic. The premise is still the same: Brother Dominic is asked to make 500 copies, but the manuscript needs to be translated into 35 languages, personalized and sent to seven continents. Xerox comes through again with the ability to do all of these things.
What does any of this have to do with the National Association of Manufacturers? Xerox is one of the more than 11,000 manufacturing companies in the United States. Recently, I came across a series of images taken in 1979 when Brother Dominic visited NAM Headquarters in Washinton D.C. So far, I have only found contact sheets of photographs, no larger photographs. But some of the pictures are quite humorous.
Brother Dominic arrived with his 500 copies to a boardroom before interacting with staff members. Even two years after the original ad aired, the character of Brother Dominic was remembered by staff members.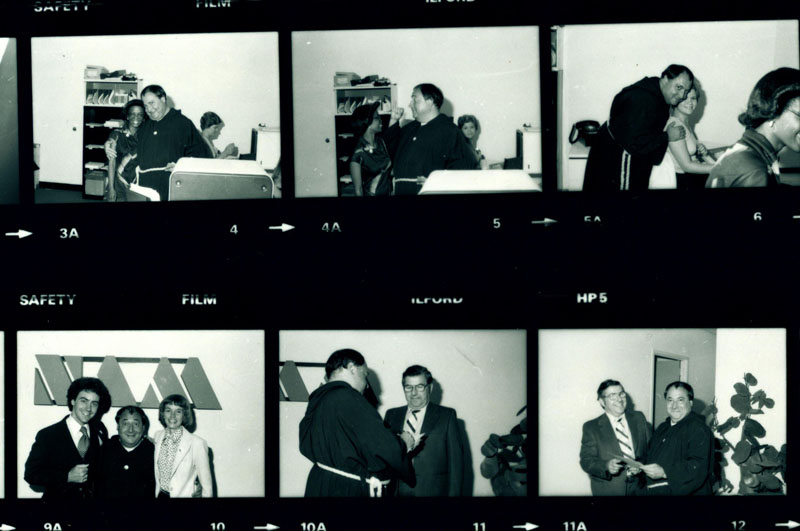 Watch the iconic 1977 Xerox commercial featuring Brother Dominic:
The 2017 version referencing the original Brother Dominic ad:
---
Ashley Williams is the project archivist for the NAM Collection at Hagley Museum and Library.