"We (American manufacturers) need an image boost … something that screams 'MANUFACUTRING MAKES AMERICA STRONG!' Something that depicts our industry as the key to our future, not a quaint relic of our past. Something that demonstrates our pride, our excitement and our new emphasis on brains over brawn. Something that will turn heads," 1995 NAM Chairman, J.Tracy O'Rourke.
When the National Association of Manufacturers celebrated its centennial year in 1995 Chairman O'Rourke's wish was granted through the commission of pop artist Peter Max. Max created a series of four images celebrating modern manufacturing.
Max was chosen because of "his colorful and vibrant style, his universal appeal, his demonstrated patriotism and his recent work in merging art with technology through unique collaborations with leading Silicon Valley companies."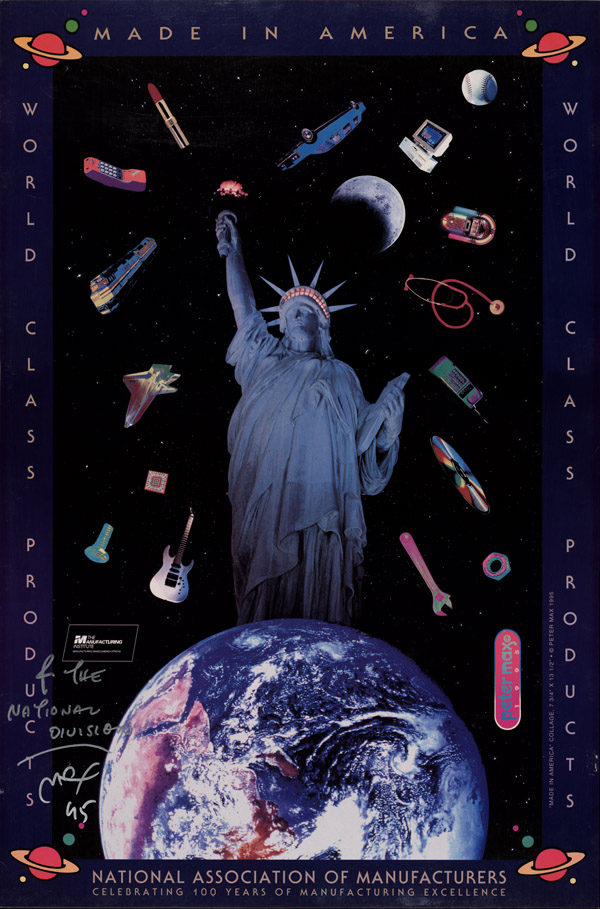 As a child, Max studied with an Austrian expressionist who introduced him to Fauvism, with its strong colors and painterly qualities. He also found inspiration from astronomy, which cosmic elements can frequently be found in his work. Over the course of his career, Max has painted works for six U. S. presidents; served as official artist of the 2006 U. S. Olympic Team at the Winter Olympics in Turin, Italy; and been the official artist of five Super Bowls, the World Series, the U. S. Open, the Indy 500, and the Kentucky Derby, among others.
At the Centennial Gala held on September 21, 1995, Max formally presented O'Rourke and NAM president Jerry Jasinowski with the original artworks. The four artworks were titled Made in America; American Workers Are the Key to Our Future; Manufacturing Makes America Strong; and Working Smarter. They reflected "pride of American manufacturing through colorful images that emphasize technology, world-class products, innovation and creativity, and employee teamwork."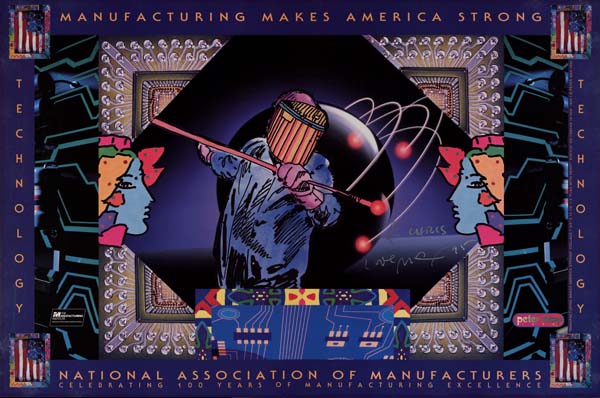 ---
Ashley Williams is the project archivist for the NAM Collection at Hagley Museum and Library.