Sunday, December 20, 2015
The Manuscripts and Archives Department has recently opened a collection of DuPont Company records collected by father and son executives Harry J. Haon, II (1901-1989) and Harry J. Haon III (1934-2013). The correspondence, meeting notes and minutes, reports, training materials, and product information constitute an important addition to Hagley's coverage of the DuPont Company in the mid- to late 20th century. 
Haon II began working at DuPont Company laboratories part-time during the summer while in college and joining the company full time in 1924 as a chemist at the Parlin, New Jersey laboratory in the Fabric and Finishes Division. His promotions prepared him for the position of Manager of DuPont Europe in 1952, a job he held for ten years until retirement. During his tenure at DuPont, Haon preserved documents regarding issues about the manufacture of the company's products, post-World War II planning and the company's westward U.S. expansion, the development and marketing of new products, and global growth. Haon's papers include valuable information about DuPont Europe and the company's London office before World War II and for several decades during the post-war period. 
---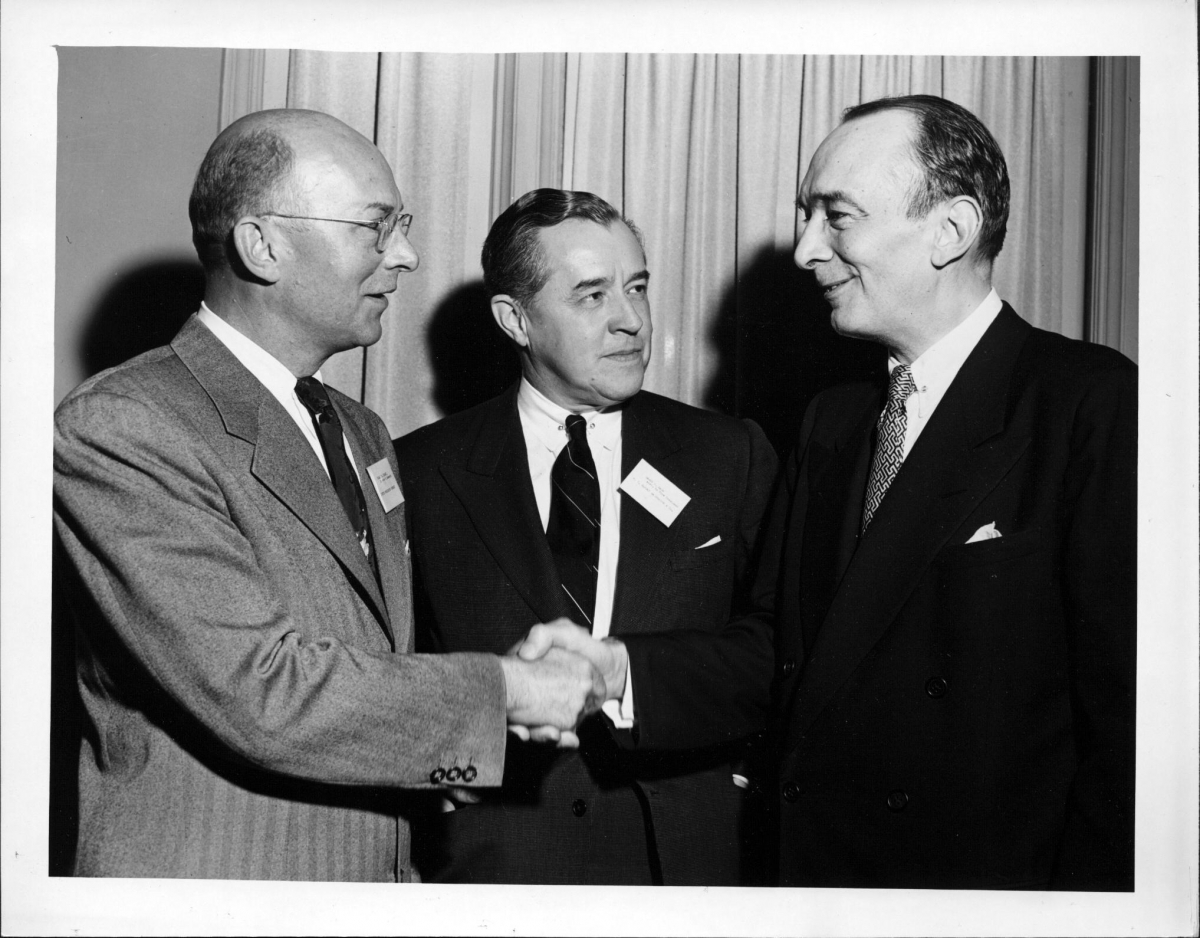 Harry J. Haon, II (center), manager of DuPont Europe, undated.
---
Haon III started his career at DuPont in 1957 as a product technologist in the marketing section of the Teflon group.  He spent much of his career involved with the production and marketing of Teflon and Aldyl piping and retired from the company in 1989. 
His papers contain marketing materials for Aldyl piping and Teflon, information about the global gas pipe industry, and records documenting management philosophy in the 1970s and 1980s. Both of the Haons' records include teaching materials for newly-hired marketing managers, sales personnel, and other employees in leadership positions.
View the finding aid for the collection - for more information, please email us: AskHagley@hagley.org.
Dave Burdash is a Processing Archivist in the Manuscripts and Archives Department at Hagley.