Thursday, September 24, 2020
Question: My ancestor worked for the DuPont Company…what records do you have on DuPont employees?
Answer: There are lots of materials on DuPont's employees at the Brandywine Works, which was DuPont's name for the black powder yards along the Brandywine. (When you come to Hagley, you're touring the Brandywine Works!) Within the DuPont Company records there are a group of pay books called "Petit Ledgers." These show how much powdermen were paid and include other interesting details such as school and county taxes employees paid, doctor fees, and pew rents for local churches. The Petit Ledgers also show payments to widows and orphans of deceased powdermen and part of the records detailing transportation of men and women from Ireland to the United States. The biggest limitations of the Petit Ledgers are they only cover the years from the powder yards' founding to 1902 and they are only cover the Brandywine Works.
Another fantastic set of resources on DuPont's Brandywine Powder Yard employees are the Brandywine Valley Oral History Project and the DuPont Company Brandywine Powder Yards and Neighboring Worker Communities' Photographs Collection. The Brandywine Valley Oral History Project is a collection of over 150 oral history interviews of people who either worked in the Brandywine powder yards or lived in the adjacent workers' communities. They detail life in and around the powder yards from the mid-19th century to the powder yards' closure in 1921. Both the audio recordings and transcripts are available at the Project's website: https://www.hagley.org/research/digital-exhibits/brandywine-valley-oral-history-project
The DuPont Company Brandywine Powder Yards and Neighboring Worker Communities' Photographs Collection is a great visual supplement to the Brandywine Valley Oral History Project. The photograph collection includes over 1,200 images of DuPont's Brandywine powder yards, workers' homes, the local landscape, and DuPont Company employees from the late 19th and early 20th centuries. All people in these photos have been identified to the best of our ability and are discoverable through a keyword search. This collection is available in our Digital Archives: https://digital.hagley.org/2017226
We have far less resources for DuPont employees in the 20th and 21st centuries, but there are a few collections that could be helpful! There are a limited number of employee record cards in the DuPont Human Resources Collection (Acc. 1615). These are from the years 1910-1920 and only cover a few of DuPont's plants such as Hopewell, Barksdale, and Carney's Point. Many of the cards are missing (they are indexed alphabetically and there are entire letter ranges absent), so there are large gaps in these records. Short biography files of DuPont research scientists, high-level administrators, and board members are available in the DuPont Public Affairs Department
Records (Acc. 1410) and the DuPont Company DuPont Building Files (Acc. 2629). These span from the mid 20th century to the early 21st century and focus on sites like DuPont's administrative buildings in Wilmington, the Experimental Station, and the Eastern Laboratory.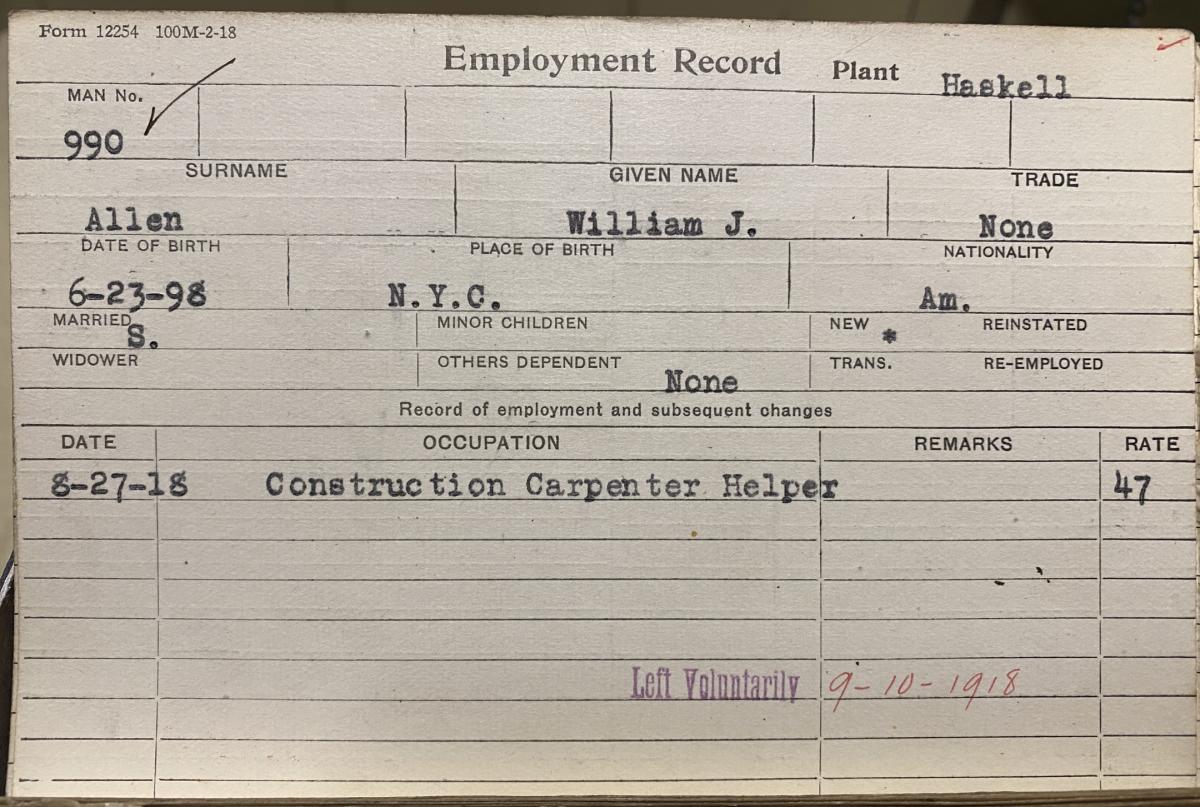 Hagley's Digital Archives < https://digital.hagley.org > is a good way to start your search from home. There you will find photos of DuPont employees, factories, and other sites as well as samples of materials like the Petit Ledgers and other manuscript records. We also have complete runs of publications like DuPont Magazine and Better Living Magazine, which highlighted DuPont's activities and often included information on employees or individual factories. Please note that the Digital Archives are only a sample of our library's total holdings…not everything has been digitized! But we hope the materials there will give you a sense of what we have in the library and provide you a way to get started with our collections!
If you have questions about our collections or want to know more about how to get started looking for DuPont employees, please send an e-mail to us at < askhagley@hagley.org >. Our Reference Team will be happy to help!
---
Lucas Clawson is the Hagley Historian at Hagley Museum and Library.​