"Who sees, through a gloom of congested roads and declining production figures, many encouraging possibilities ..." - Joseph Ledwinka, January 1932. In The North American Review, pp. 59-64.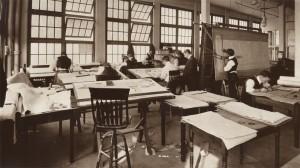 Joseph Ledwinka (1869-1949) was a prominent engineer in the early twentieth century who patented many innovative automobile designs and inventions. Ledwinka immigrated to the United States in 1896 from Vienna and met engineer Edward Gowen Budd (1870-1946) while working at the Hale & Kilbum Manufacturing Company in the early 1900s. Budd, born in Smyrna, Delaware, specialized in applications for pressed steel. In 1912, Budd and Ledwinka left Hale & Kilbum to form their own company, hiring twelve employees. The Budd Company began in Philadelphia as the Edward G. Budd Manufacturing Company specializing in the manufacturing of all-steel body automobiles. The Budd Company received two large orders right away, and then struggled a bit in 1913. Orders from various automakers such as Packard, Peerless, and Willys kept the business going in 1914, and then Dodge brothers, John and Horace, began a working relationship with the Budd Company for all-steel bodies for their cars.
Ledwinka is credited with having designed several automobiles including the Ruxton, the Citroen Traction Avant (TA), as well as patenting various features such as the Budd All Steel Body, locking mechanisms, brake mechanisms, vehicle frames, pressed-metal doors, upholstery, rubber tire improvements, as well as many others.
Seen below in the dark coat is Joseph Ledwinka in the drafting room of the Budd Company's Hunting Park Plant, Philadelphia, Pennsylvania, in 1916.
Hagley Museum and Library has several collections documenting the history of the Budd Company which today is called ThyssenKrupp Budd.
Laurie Rizzo is Assistant Curator of the Pictorial Collections Department at Hagley Museum and Library.