Tuesday, October 31, 2023
The release of two major motion pictures in July unleashed the cultural phenomenon of "Barbenheimer." For staff at Hagley Library, this presented a golden opportunity to show off some of the materials from our historic collections that reflect the consumer culture of "Barbie" and others that document the Manhattan Project of "Oppenheimer." Casual conversations among colleagues quickly turned into collaboration that produced three exhibits for our public reading rooms which were on display throughout October.
Our first display shined the spotlight on Barbie. This stage was set with a biography of the doll's creator, Ruth Handler, a Sears catalog, a full-page ad created by BBDO, and market research conducted by Ernest Dichter for Mattel Toys. Paper dolls stood in for their plastic counterparts, whose off-gassing within the glass enclosure may harm the other artifacts. Tying it all together were movie quotes, such as "Barbie changed everything, then she changed it all again."
Our second feature starred E.I. du Pont de Nemours & Company developing fuel for the first nuclear weapons in conjunction with J. Robert Oppenheimer. A quote from the film summed up the enterprise as "Build a town, build it fast," while the assemblage itself projected our institutional concern for conservation. Notice that preservation photocopies safeguard original photographs taken at the remote Hanford, Washington site of plutonium production. A Mylar sleeve insulates the acidity of employee newsletter, Sage Sentinel. The diary of DuPont Company President Crawford Greenewalt came from climate-controlled storage in closed stacks, like all Hagley holdings. Our library materials rarely see such sustained light of day, and our conservation staff monitored their exposure to ultraviolet light during this three-month run.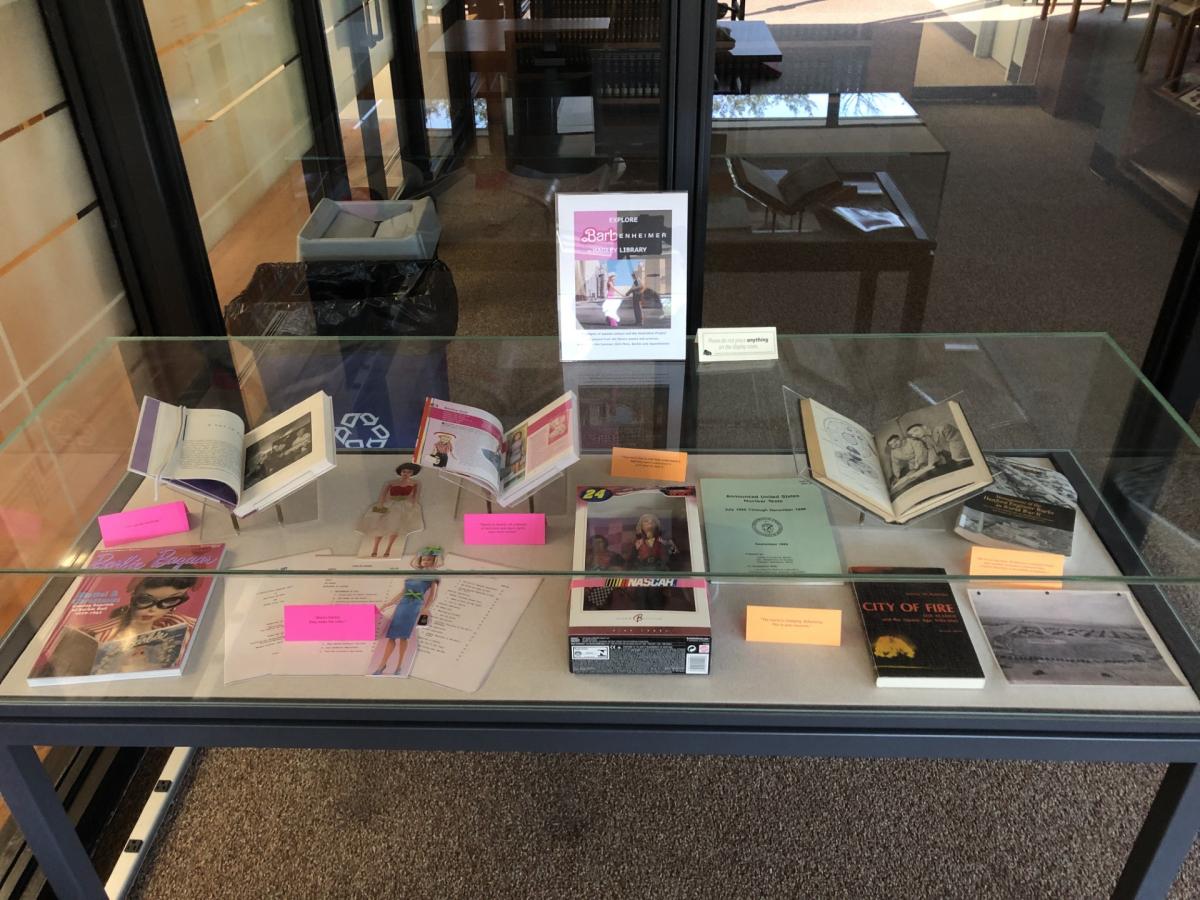 The third exhibit – my personal favorite – was a mash-up where gender roles explored by "Barbie" meet revolutionary technology advanced by "Oppenheimer." A central caption invited the viewer to consider the impact of both mid-century forces: "The world is changing. Reforming. This is your moment." Inspired by this array, a Hagley volunteer offered to loan us her special collector's edition NASCAR Barbie, honoring DuPont-sponsored #24 Jeff Gordon. In this case, the plastic figure was permitted due to the protective shell of its original package.
Working on this public-facing venture was an enjoyable step out of my proverbial box, as someone accustomed to cataloging books behind the scenes. Roll credits with appreciation to my supporting cast: Reference Librarian Linda Gross, Head of Reference Angela Schad, Library Conservator Laura Wahl, Senior Conservation Technician Sharon Fickeissen, Library Coordinator Hannah Spring Pfeifer, Hagley Historian Lucas Clawson, and volunteer Lee O'Brien.
Alice Henderson Hanes is the Technical Services Librarian at Hagley Museum and Library