Tuesday, October 19, 2021
Like many companies, BBDO has had several departments come and go over the years. Some remain throughout the company history, while others seem to fade into the background. In this article, we will look at a handful of departments that I have found so far while processing the collection.
The Creative Department implemented BBDO's creative philosophy of first determining the prime prospect and then creatively using advertisements to show how the benefit of products can solve problems.
The Fashion Department was established in 1952, at a time when fashion and fashion styling were first recognized as an essential factor in the power of an ad to appeal to or convince a consumer. The department worked with fashion accounts such as McGregor-Doniger, Hart Schaffner & Marx, Springs Mills, DuPont, and Formfit-Rogers. It housed an enormous assortment of shoes, handbags, hats, and other accessories, in addition to garments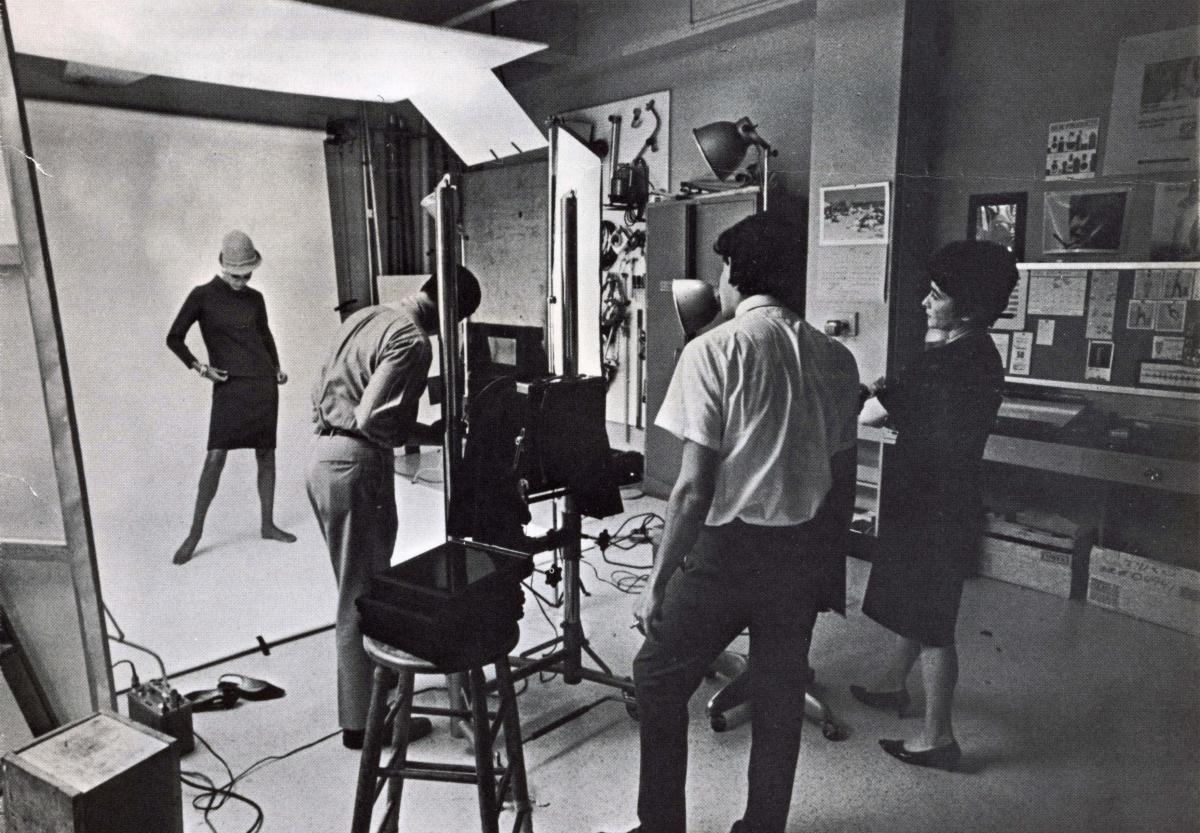 The Kitchen Department was responsible for the test kitchen, which was used to produce advertising for food clients and serve food and beverages in the BBDO offices. It was established in 1930 and briefly published Kitchen News, which contained recipes from the test kitchen and other tips to enhance home economies.
The Management Science Department researched and prepared information for marketing management to improve their decision-making ability. The reports presented by the department were often based on surveys, models, and sales data and development. The department was established in 1971 under the guidance of Lewis G. Pringle.
The Pharmaceutical Department was established in 1966 to bring the many modern services that BBDO could offer to a field that increasingly needed its services.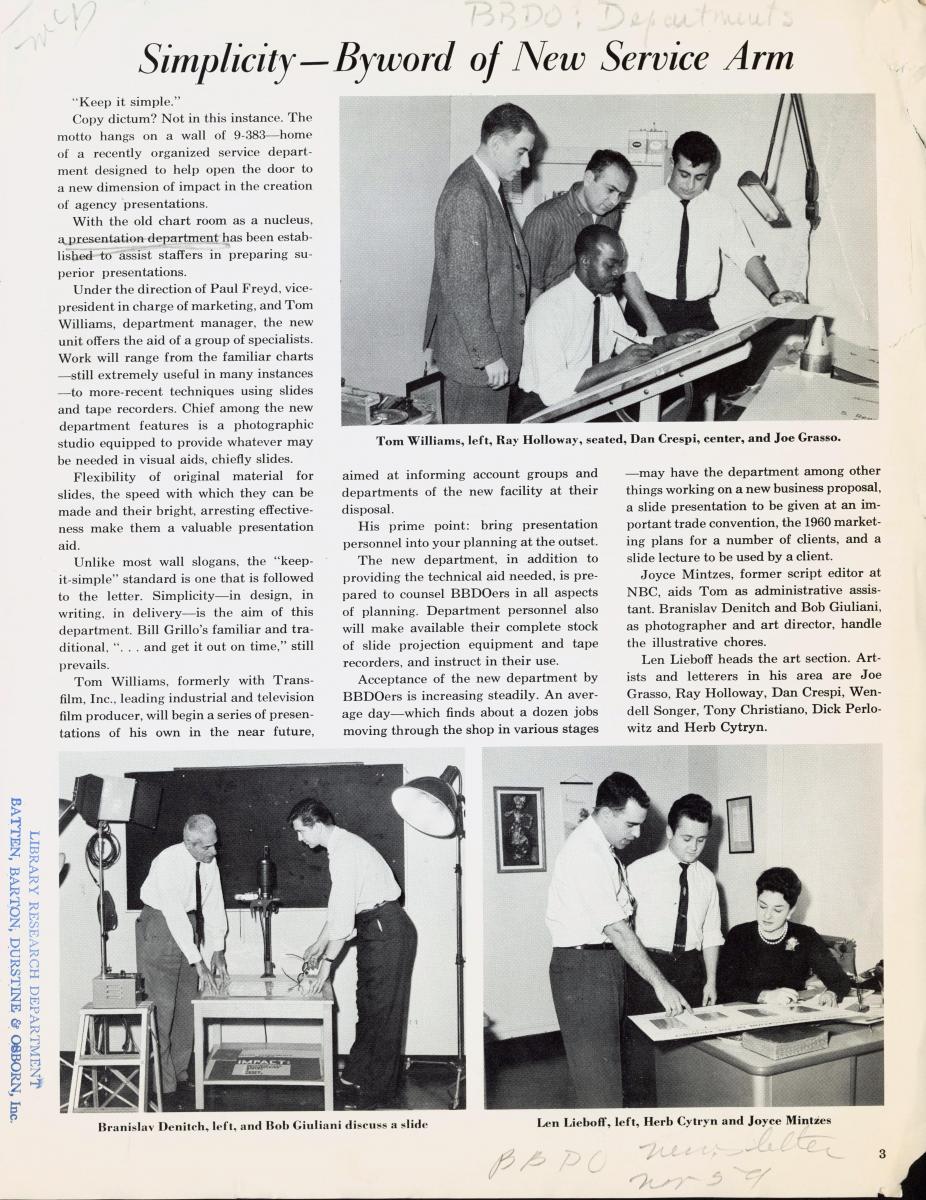 The Presentation Department was established in 1959 to work with BBDO employees to create superior presentations for their clients and prospects. Their work ranged from familiar charts to newer techniques that used slides and tape recorders.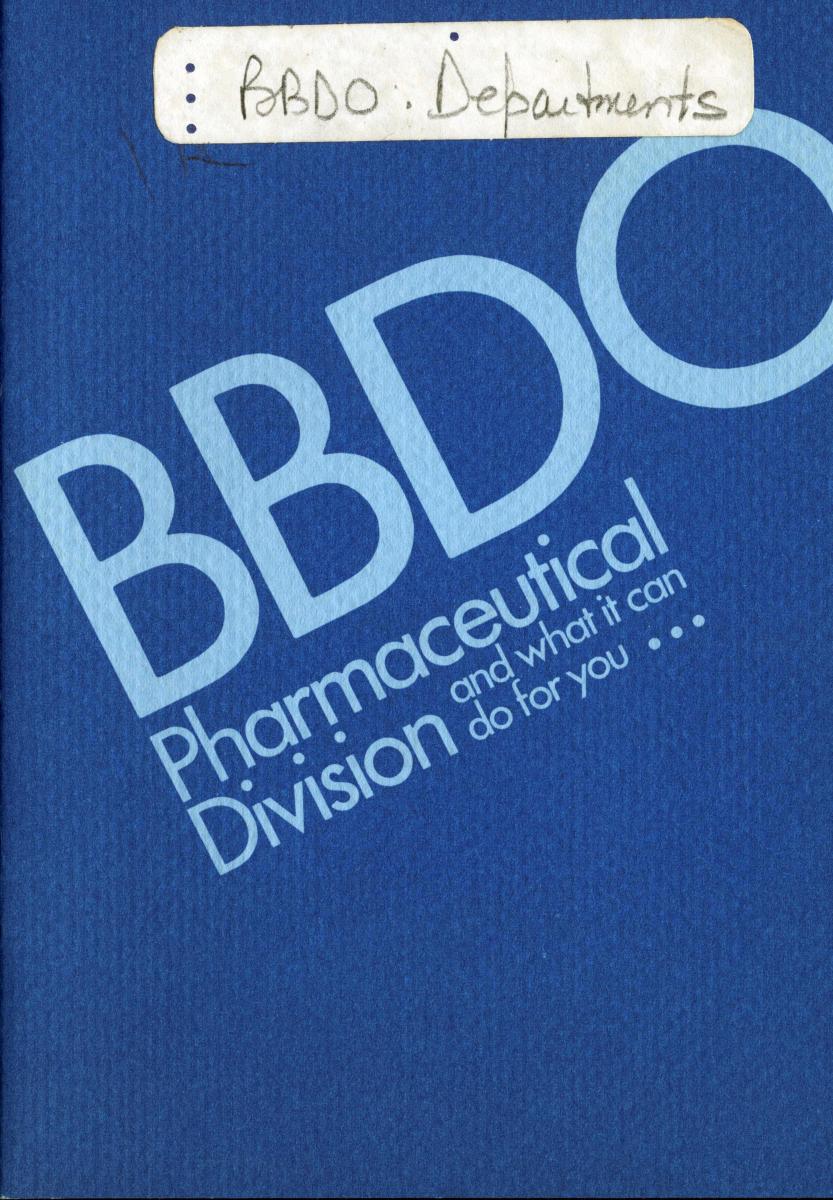 The Special Market Department focused on marketing towards Black and Latinx consumers. Through understanding their preferences, BBDO could provide more targeted advertising for the consumer. Some of the research studies include ones related to primetime network and network television sports viewing preferences, skin and hair care products, and a general understanding of the market.
These represent only a few of the departments at BBDO. Their work was important to BBDO's overall success for clients. As BBDO grew and took on several clients in a particular field, they sought to establish a department that could be the expert and help lead the agency into greater success. It is not clear when some of these departments ceased to exist – and it is possible some do still exist – whether it was because of reorganizations, diminishing workloads, or the agency feeling they had a firm grasp on the topic. While the collection has not revealed the reasons, there is material related to the different departments and their work, particularly from the 1950s to the 1970s.
Ashley Williams is the project archivist for the BBDO collection at the Hagley Museum and Library.