As the Processing and Digital Archivist, I work with a variety of materials: paper, photographs, moving images, sound recordings, and born-digital materials. Each has its own unique properties and handling requirements. But today, I'm going to focus on the born-digital materials specifically.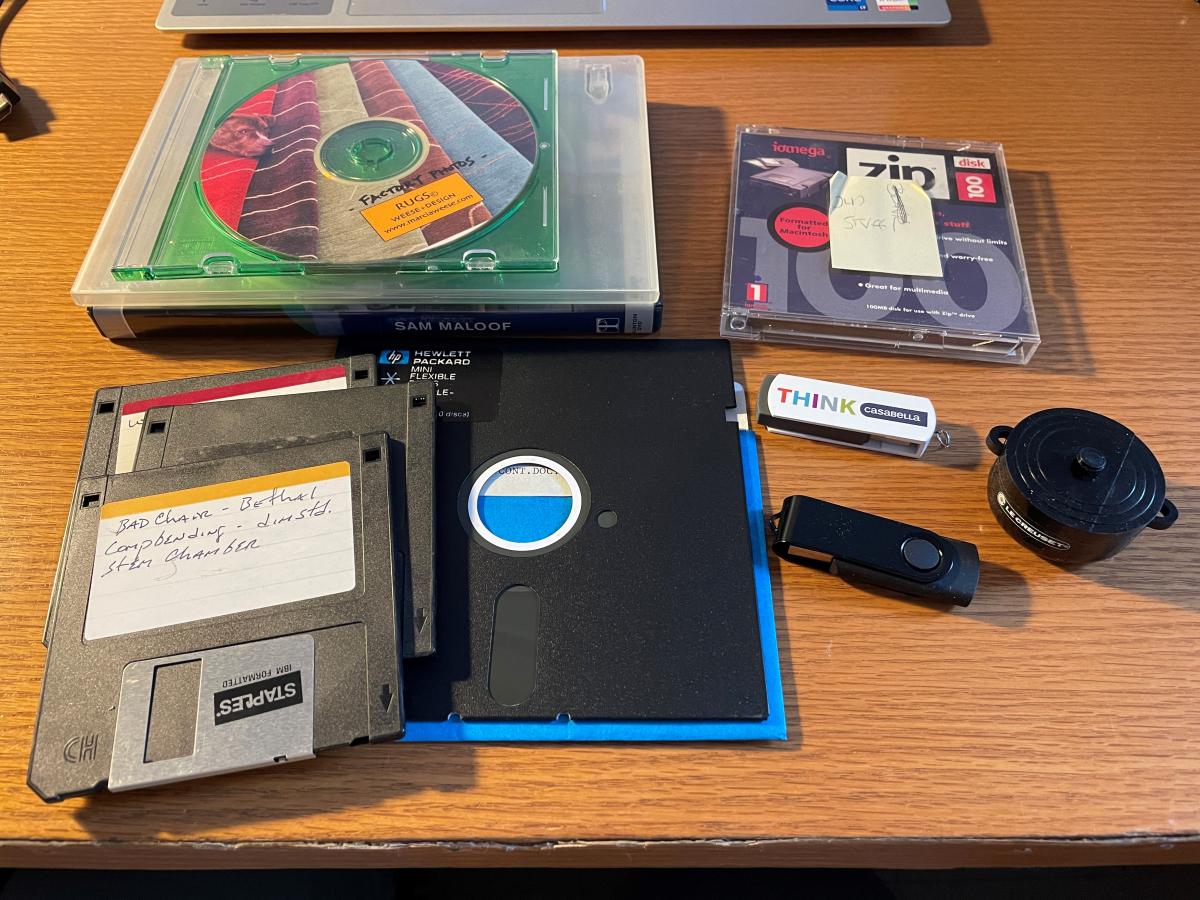 What are "born digital records?" Born digital records, sometimes called electronic records, are any of your computer files, whether they are stored in the cloud, on hard drives, CDs, thumb drives, floppy disks, or any other removable media (see right). At some institutions, born-digital records will also encompass digitized items–physical items that are scanned or otherwise digitized, generally to provide access via the internet, as we do with the Hagley Digital Archives. I am fortunate that digitized items do not fall under my purview, especially given our large collection. But the previously mentioned computer files do fall within my responsibilities.
What happens when a box of removable media is found? First, I create a disk image of the CD. This is basically a snapshot of everything that is on the media. If any of the files are later corrupted or degraded, we can return to this disk image to re-pull the files. Next, I copy the files and ensure they all have a file extension. There are online tools that can help me identify file formats when there are none identified. The disk image and files are kept on a server and backed up to a secure web storage location as preservation copies. We then create a checksum, a unique string of letters and numbers, of the preservation copies, which can be run later to check for any degradation and to ensure the material's integrity.
With the preservation copies secured, I next make access copies that researchers and staff use. This sometimes entails converting files into accessible formats. For instance, .eps files are converted to .jpg files, and video clips are encapsulated into one .mp4 file. These access copies are arranged by folder title, like other archival materials, and described in the finding aid. An example is the Industrial Designers Society of America (IDSA) records. Providing better access to these files is a current topic of discussion amongst a few Hagley Library staff, and we hope to have a working solution soon.
Still, Hagley is ahead of many institutions; we are actively tackling our born-digital materials. But there is always room for improvement, particularly since born-digital material is always evolving and types of technology become obsolete. It is a unique challenge, one we continue to examine and experiment with different methods in search of solutions.
Ashley Williams Clawson is the Processing and Digital Archivist at Hagley Museum and Library