Tuesday, September 21, 2021
One of the most rewarding aspects of processing archival collections is discovering how the people and organizations represented in the materials intersected with major events of the time.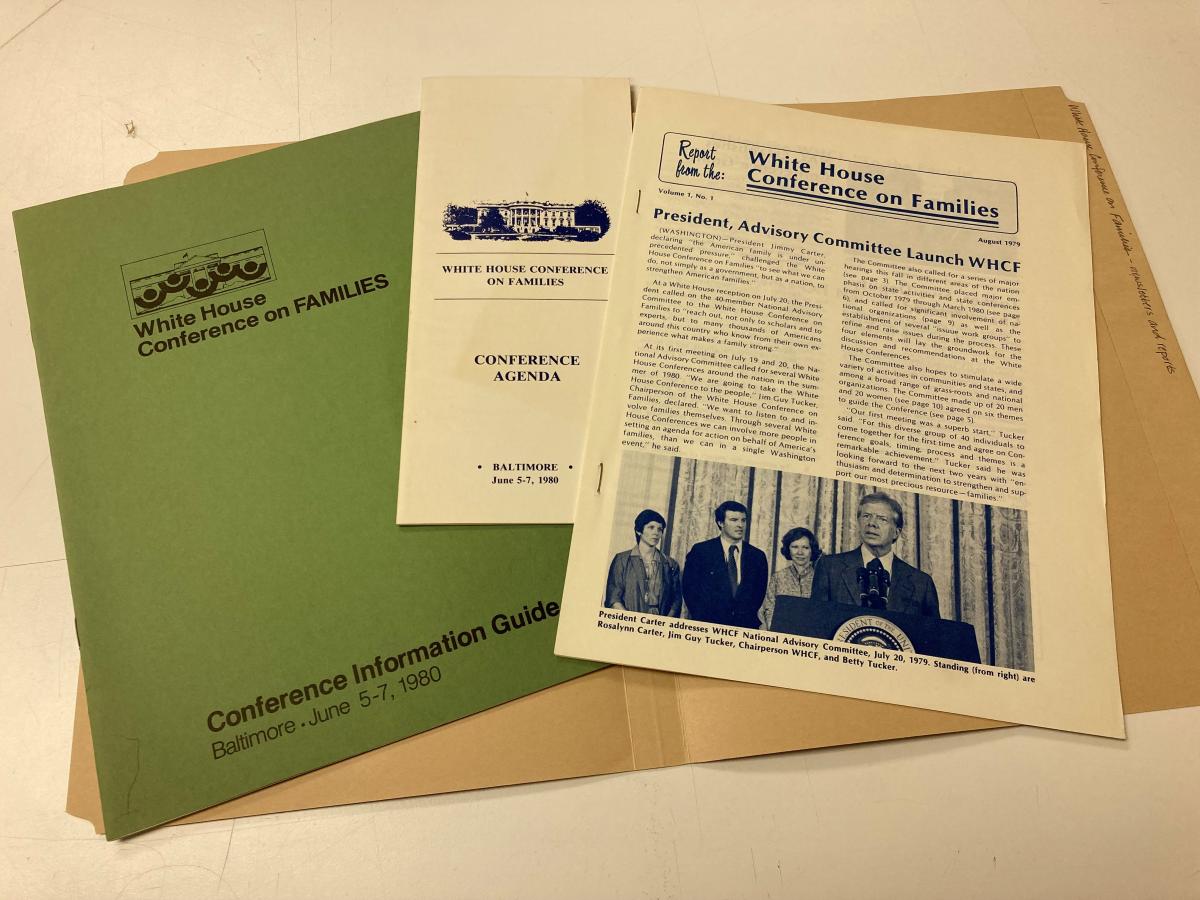 On June 6, 1980, President Jimmy Carter opened the White House Conference on Families (WHCF), a year-long endeavor to "examine the strength of American families, the difficulties they face, and the ways in which family life is affected by public policies."[1] Chaired by former U.S. Representative (and later Arkansas Governor) Jim Guy Tucker, the WHCF actually entailed a series of conferences at the state level; three national conferences in Baltimore, Minneapolis, and Los Angeles; and the formation of a national coalition of supporting organizations—all preceded by Congressional hearings at which more than 2,000 witnesses spoke! The WHCF's National Advisory Committee included a wide range of diverse voices, including Mario Cuomo, Coretta Scott King, Jesse Jackson, Bettye Caldwell, Gloria Chavez, and Harold Yee.[2]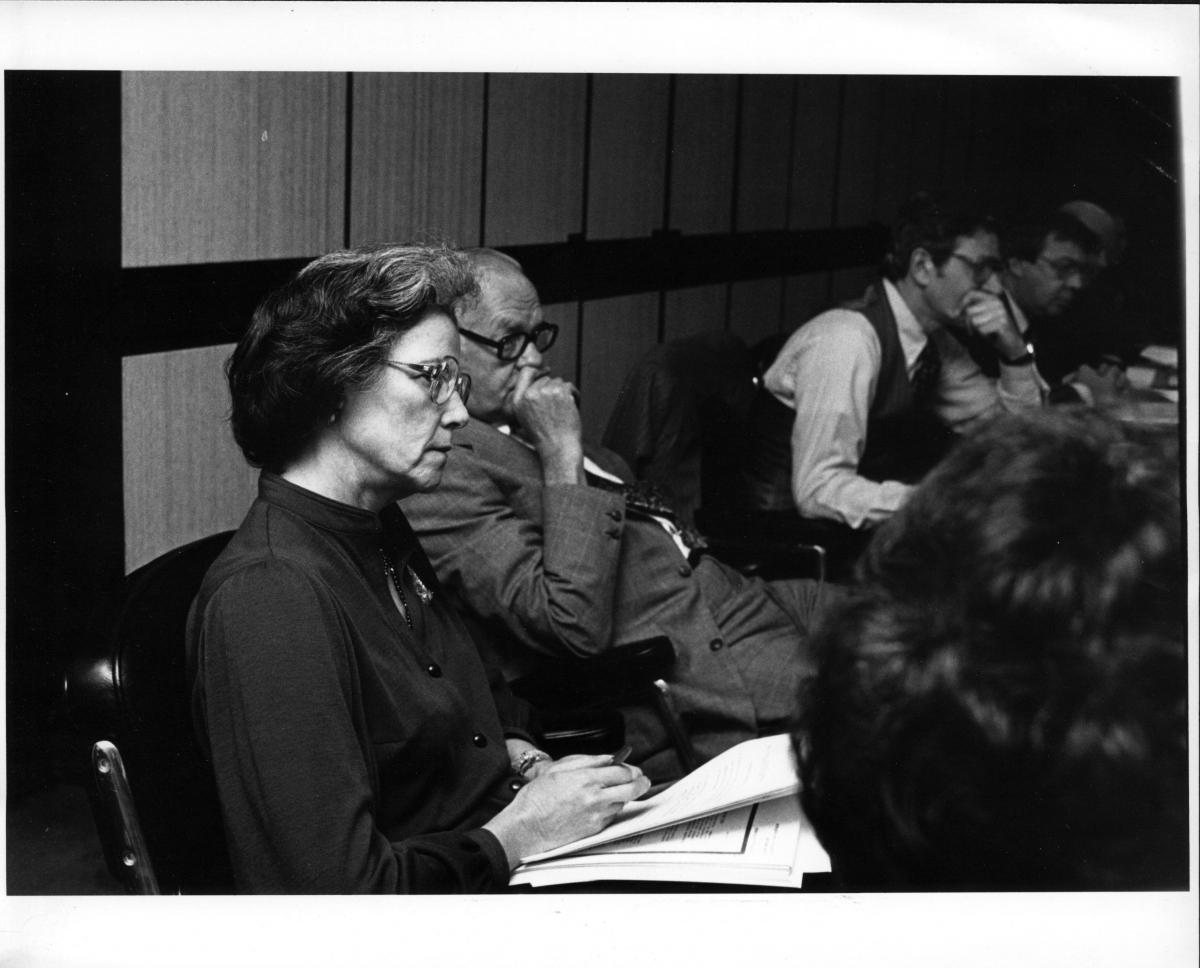 Catalyst founder and first president Felice N. Schwartz was invited to join the WHCF Business Task Force, a group of 28 members charged with providing input from the business community as the conference worked through policy recommendations. Schwartz also served as delegate-at-large in Baltimore, while Catalyst staffers participated in one of New York's state conferences, held in January 1980 at Fordham University.
Schwartz testified before Congress on November 30, 1979, delivering remarks titled, "The Two-Career Family." In them, she pressed for the needs of working parents to balance family and career demands, including increased child-care options and workplace flexibility. Her statement reflected the work of Catalyst's newly established Career and Family Center, which Schwartz described as having the goal of "helping the two-career family and employers explore more flexible arrangements to meet their respective needs, and to create a broader range of options for both men and women than the either/or choice between career and family."[3]
Although generally applauded for its collegiality and "spirit of consensus," the WHCF was marred by conflict on the second day of its Baltimore conference, when more than thirty of the 671 delegates walked out, claiming that their conservative views were being ignored in favor of a liberal agenda.[4] The group split off from the WHCF; ultimately, incoming President Ronald Regan favored its conservative approach to family policy, and only two the WHCF's twenty recommendations were implemented: the creation of a White House Office for Families and a marriage tax reduction.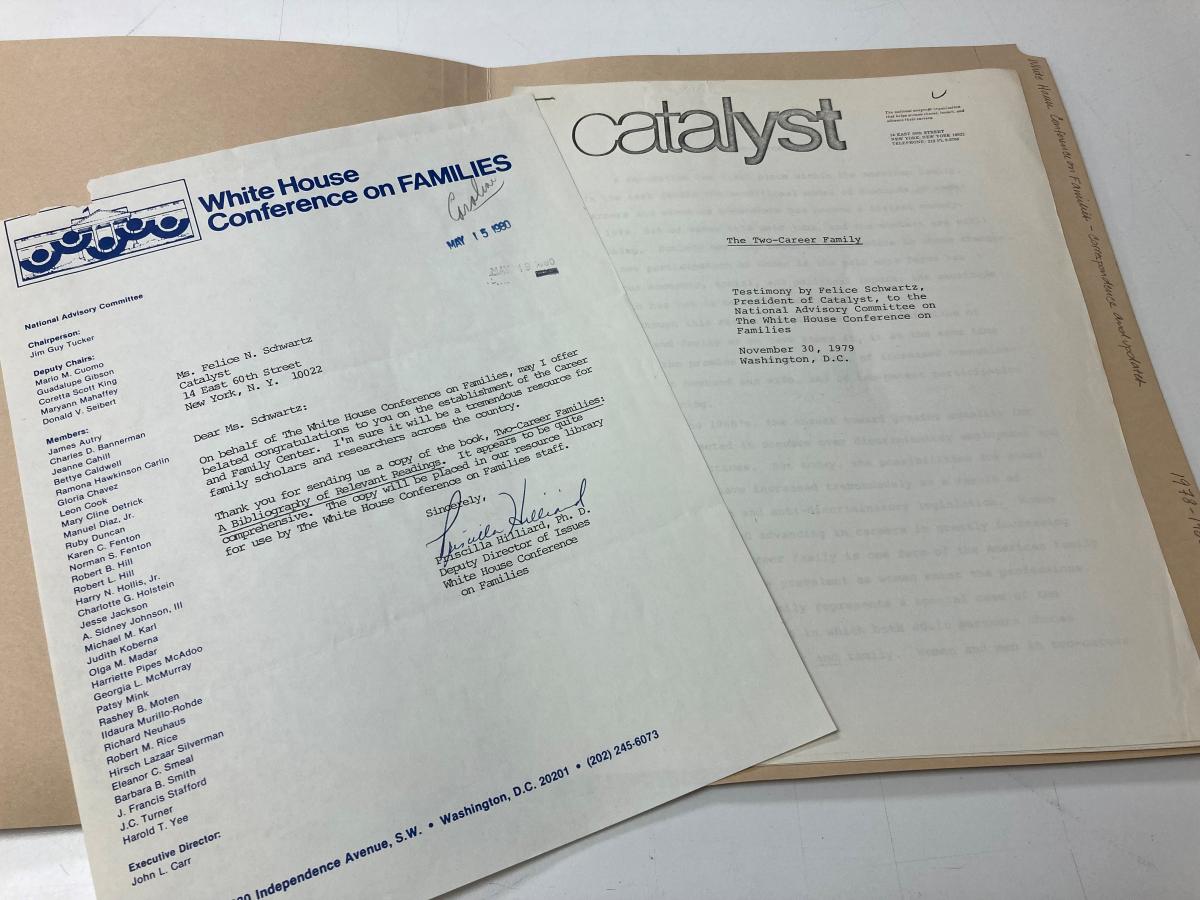 The Catalyst, Inc. collection at Hagley contains Schwartz's full Congressional testimony, correspondence, conference materials, newsletters documenting conference activities, and the WHCF final report, Listening to America's Families: Action for the 80s (December 1980).
We'll feature more stories from the Catalyst collection as work continues. The collection is anticipated to be opened for researchers in 2022.
---
Diane E. Bockrath is an archivist at Hagley Museum and Library.