Monday, November 14, 2011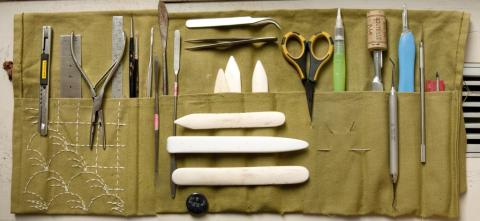 When I first started in the conservation lab, my kit consisted of small stainless steel scissors, pliers, blunt edge tweezers, a spatula, scalpel, and a bone folder all jumbled in a plastic box. Over the past 11 years I've added numerous tools and organized them in a custom wrap. While I don't use every tool every day or even once a month, they are all indispensable.
The two versatile tools that are most often found in my back pocket are the bone folder and micro-spatula. Bone folders are used for folding, burnishing, scoring, and smoothing. Folders are also available in Teflon which won't sheen the material being burnished. Micro-spatulas are frequently used for lifting, scraping, probing and separating. The ends of my stainless steel spatulas have become so sharp from use, I've received more cuts on my fingers from them than I have with any other cutting tool.
Proper tools for cutting are my snap blade knife, Teflon scissors, and scalpels. The snap blade knife is my "go to" for straight cutting, slicing into book boards and trimming mends. Teflon scissors, one of my new acquisitions, have proved great for trimming adhesive call number labels because the blades won't get gummed up with the adhesive. These pointy scissors are also good for getting into tight spaces and making micro cuts. I primarily use scalpels for scraping and lifting unwanted materials. Wine corks make protective scalpel blade covers.
Other new acquisitions are the water brush, which is used for localized humidification or wetting and scoring Japanese paper; an interproximal carver, a dental tool used for getting between two adjoining surfaces. I use it for removing adhesive from book spines, particularly in between signatures; and the metal rulers I picked up at an antiques shop that specializes in trade tools.
I have three pairs of tweezers: blunt tip, pointy straight tip and offset pointy tip. They are used for picking up and placing small bits of material.
Rounding out my kit are small paint brushes, sewing needles and pliers. As for the tool wrap, I made it from canvas and embellished the inside and over flap with Sashiko, a running stitch technique used by the Japanese as functional embroidery and embraced by quilters for decorative purposes.
---
Sharon Fickeissen is the Collections Care Technician in the Library Conservation Department at Hagley Museum and Library