As part of the exhibit An Oath of Allegiance to the Republic: The du Ponts and the Civil War, the Hagley Library digitized select items from our collections related to the Civil War. With approximately five hundred items now available through our website, visitors can get a glimpse of Hagley's extensive Civil War-related collections.
The collection of online Civil War items contains nearly two-hundred pieces of correspondence from du Pont family members, including Admiral Samuel Francis Du Pont, Henry A. du Pont, and Sophie Du Pont. Their letters discuss the Delaware home front, national and local politics, business at the DuPont powder yards, and matters pertaining to the life of Civil War soldiers.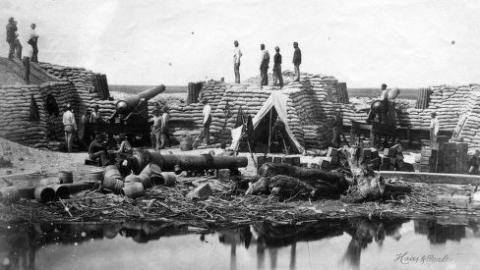 Hagley's online Civil War Collection also includes a variety of period photographs. Notable among these are forty images of Fort Wagner on Morris Island, South Carolina, taken after Union forces captured the Fort in September 1863. This site is portrayed at the dramatic end of the film "Glory" about the 54th Massachusetts Regiment (a famous African-American unit) which suffered heavy casualties in their July 18, 1863 assault on the Fort.
Fifty-nine documents related to Company B of the 5th Delaware Regiment, commanded by Lammot du Pont, are part of this online collection. Among the digitized items are muster rolls that give the names of men who served in Company B. Many of these volunteers also worked in the DuPont Company powder yards during the war.
This is just a small sampling of Hagley's outstanding collections related to the Civil War. Hagley welcomes researchers to use this material for study. If you have any questions, please use our Ask Hagley online form.
For those in the Wilmington area, An Oath of Allegiance to the Republic: The du Ponts and the Civil War exhibit is open at the Hagley Visitor Center until July 22.
For those unable to visit the exhibit in person, we produced two online companion exhibits: Robert Smalls: Former Slave and Civil War Hero and Soldiers and Powdermen, with biographies of soldiers who served with du Pont family members during the war.