Wednesday, April 11, 2012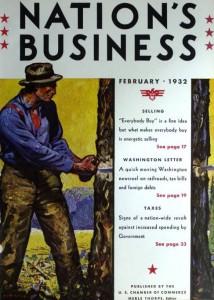 The Nation's Business was the monthly magazine of the Chamber of Commerce of the United States from 1912 to 1999. The Chamber of Commerce developed early into one of the most influential business advocacy organizations and researchers will find an invaluable resource in its monthly magazine.
Since last year, the Digital Collections Department at Hagley has been hard at work on a large digitization project that will make the entire run of the Nation's Business available online and full-text searchable.
Every major event that shaped American politics and business, from World War I to the early days of the internet age, is documented in the pages of the Nation's Business. Many issues of pressing concern to the business community today, such as state-business relations, have roots in earlier periods and can be studied as they evolved during the 20th century.
While politics is a common theme throughout The Nation's Business, articles also cover the evolution of workplace technology, the development of new methods for marketing products and services to consumers, and the emergence of influential labor unions during the last century.
The project was funded through the generous support of the Chamber of Commerce as part of their 100th anniversary celebration. In addition to the digitization of the Nation's Business, Hagley has curated an exhibit that will be installed this spring at the Chamber's headquarters in Washington, D.C., and run through the summer. It will then be moved and re-open on September 7, 2012 at the Hagley Museum and Library in Delaware. The exhibit will feature images from the collection of original photographs from The Nation's Business magazine.
We expect to have every page of the Nation's Business available for research in Hagley's Digital Collections by the end of April. Currently, we have scanned over 85,000 pages and uploaded 900 issues. Jennifer Matthews, Elizabeth Fite, and Marina Dobronovskaya performed all of the scanning and added the metadata for the Digital Collections Department. Interestingly, two of the issues had to be scanned from microfilm since an extant copy could not be found. Six of the volumes, initially believed to be missing, were found in the collection of the Wilmington Public Library and donated to Hagley.
While we still have issues from approximately ten years left to scan, the collection is online and available for researchers. Visit the homepage for collection.
Next month, we will post an article here with some interesting finds uncovered during the Nation's Business digitization project.