My Yale art history dissertation, "Emily Dickinson's Window Culture, 1830-1886," explores how the poet Emily Dickinson drew upon the visual and material qualities of her windows, the views they framed, and the atmospheric effects they produced, to compose "window pictures" in the spaces of her home. Although Dickinson became intensely reclusive after the age of 30 and rarely ventured beyond her family's estate at 280 Main Street in Amherst, Massachusetts, she maintained a creatively productive relationship with the outside world through the medium of the window.
Dickinson lived in a house abundantly punctuated by windows, and each window contained panes of glass that bore the warps, whorls, and waves inherent to window glass during the nineteenth century. Both crown and cylinder glass – the types predominantly used for domestic windows during the nineteenth century – were formed by human breath and hefty human maneuvering and thus produced, by default, whimsically textured glass. Paul Strand's 1944 photograph of the sash window of an abandoned New England house vividly captures some of the mesmerizing visual effects produced by the window glass from that period: filled with residual particles of silica or clay and marked by bubbles and waving bands, these panes distorted nature's familiar forms into fantastical patterns. In my dissertation, I examine how these distortions shaped the landscape as it appeared to Dickinson, and how subsequently her landscape poems convey a world with forms warped into unfamiliarity: sunrises that unfurl color by color, and views of nature that never appear whole but in incremental fragments:
A Slash of Blue! A Sweep of Gray!
Some scarlet patches – on the way –
Compose an evening sky –
A little Purple – slipped between –
Some Ruby Trowsers – hurried on –
A Wave of Gold – a Bank of Day –
This just makes out the morning sky!
One of the sources from the Hagley Library that caught my attention during my research visit was the Pittsburgh Plate Glass Company's pamphlet, dated circa 1920. The pamphlet introduced potential consumers to the new technologies and processes involved in producing its line of Pennvernon Window Glass, a superior form of window glass that was unsurpassed in uniformity, flatness, and transparency. Advanced machinery and technological processes eliminated the waves, whorls, and distorted reflections found in former types of window glass. As the pamphlet announces on the first page: "Gone is the old bowed glass…gone the surface burns…uneven thickness…the stringy, wavy, wobbly effects so long identified with window glass. In their place is a flatness and brilliancy never before believed possible in fire-finished glass." One illustration shows a manufacturer comparing two sheets of glass: in his left hand is a glass sheet bearing a cloudy, barely recognizable reflection of his face, while the Pennvernon window glass in his right hand shows his reflection, complete and without defect.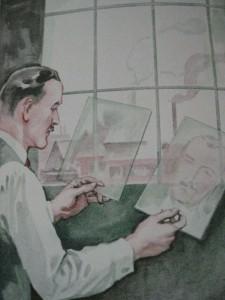 Filled with illustrations and detailed discussions of the new processes and technologies employed by the Pittsburgh Plate Glass Company, this pamphlet highlights the contrast between the improved window glass of the early twentieth-century and the more textured window glass of Dickinson's era, whose warps and whorls – although considered undesirable by manufacturers – nevertheless heightened the quality of Dickinson's visual imagination and thus helped shape the strange natural world she depicted in her poems.
---
Xiao Situe is a Ph.D. candidate studying American and British Visual Art and Material Culture in the Department of the History of Art at Yale University.