I know, I know, that title is a really bad pun. The sheep in question isn't even a female. But didn't ewe (not sorry) click on this article to see why in the world Hagley is making sheep puns? Mission accomplished.
I hope this newsletter article finds you wool…
I'd like to introduce the newest addition to one of our favorite rooms in the Eleutherian Mills Residence, the Terrace Room. Equipped with a freshly made, sturdy wooden base, meet Don Pedro, the unofficial du Pont family mascot.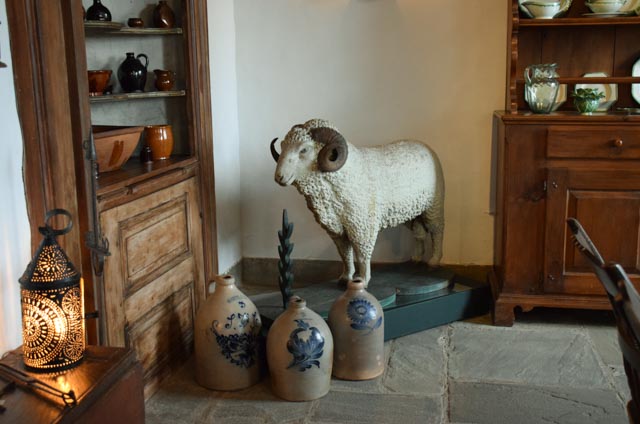 E.I. du Pont was one of the earliest leaders of the Merino sheep "craze" that took hold of the United States in the early nineteenth century. Spanish Merino sheep were well known for their fine fleece, and du Pont's first Merino ram—you guessed it…Don Pedro—was absolutely one of the finest examples of the breed. Don Pedro was imported to Philadelphia in 1801 and was living along the Brandywine as the official property of E.I. du Pont by 1805. Du Pont offered Don Pedro as a stud to surrounding farmers – an act that was at first looked upon skeptically. How could a Spanish sheep raised by a Frenchman be superior to America's own herds? 
Eventually, by shear example, du Pont won over farmers in the area. As of 1810, E.I. had 400 sheep in his Merino flock, and Don Pedro's progeny were seemingly everywhere – even on the farm of Thomas Jefferson. E.I.'s brother, Victor, would also reap benefits from Don Pedro's fine wool, taking part in the establishment of Du Pont, Bauduy, and Company – a woolen factory with fine fleece.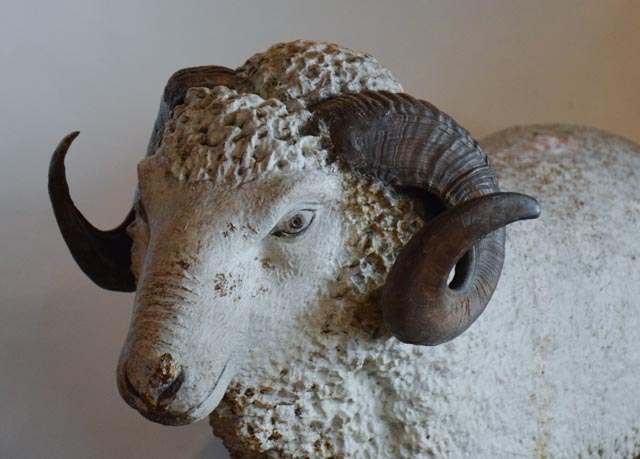 With horns from the real Don Pedro himself, this wooden statue was made by Charles Dalmas, E.I. du Pont's brother-in-law. The du Pont family has adopted Don Pedro as a family symbol, creating various concrete replicas of this original statue. Don Pedro is undoubtedly an ode to the du Pont family's interest in, and the importance they placed upon, land ownership and agriculture. For more on this, follow this link.
This statue of Don Pedro hasn't been on display at Hagley for more than 30 years. But all's wool that ends wool. When we brought Don Pedro out for our 2022 holiday theme of "All Creatures Great and Small", our visitors went bananas!
Don Pedro is now a permanent fixture in the Eleutherian Mills Terrace Room. Though he's behind baaarriers, be sure to stop in soon to say, "Hay, how ya doing?"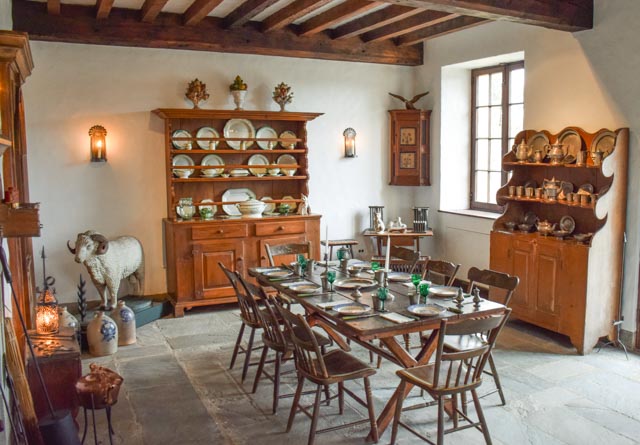 Caroline Western-Osienski is the Curator of Collections at Hagley Museum and Libraaary