In 1956, renowned interior designer William Pahlmann (1900-1987) was approached by Jerome Brody of Restaurant Associates, Incorporated to help create a new upscale restaurant to be located at 57 West 48th Street in New York City's Rockefeller Center. Brody charged Pahlmann with developing a theme for this new restaurant and designing its interior décor. Pahlmann responded to this challenge by creating an interior design masterpiece: The Forum of the Twelve Caesars, which opened for business in October 1957.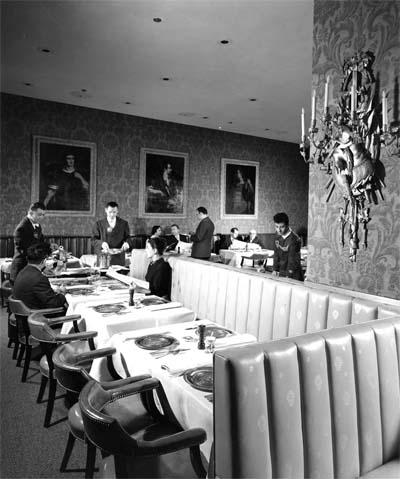 At the time of its opening, The Forum of the Twelve Caesars was one of the most opulent and expensive restaurants in New York City. Created at a cost of $500,000, the Forum's extensively researched theme was that of the Roman Empire from 110 BC to 100 AD. The name of the restaurant was inspired by a collection of twelve paintings owned by Pahlmann of the Imperial Caesars (Julius Caesar and the first eleven Roman emperors), which were attributed to Italian Renaissance artist Camillo Procaccini (1551-1629).
Pahlmann designed The Forum's interior to convey a spirit of splendor and vastness associated with the Roman Empire. The dining room walls were decorated with red Fortuny fabrics and the twelve Procaccini paintings of the Imperial Caesars. The barroom was decorated with bronze busts of the Imperial Caesars and a mosaic portraying Roman life by William Harris. The waiters and busboys wore Roman-inspired uniforms. Diners ate and drank from oversized tableware (including centurion helmet wine buckets) specially designed for the Forum and imported from countries that were formerly part of the Roman Empire.
This spirit of splendor was also captured in the restaurant's food. The Forum served an international cuisine, featuring dishes purportedly favored by the Imperial Caesars from all over the Roman Empire. The menu included entrees such as "Oysters of Hercules, Which You with Sword Shall Carve" and "Pheasant of the Golden House on a Silver Shield in Gilded Plummage, Roasted with an Exquisite Sauce."
Pahlmann's work on The Forum of the Twelve Caesars was very well received by both the general public and his peers within the interior design profession. In 1959, Pahlmann was awarded Interior Magazine's Outstanding Institutions Award for the Dining Area. The Forum of the Twelve Caesars closed due to an economic downturn in 1975, but the William Harris mosaic that once graced its barroom remained intact and in its original position. This remaining relic of Pahlmann's interior design masterpiece can now be seen at A.J. Maxwell's Steakhouse.
The William Pahlmann Papers are housed with the Manuscripts and Archives Department at the Hagley Museum and Library. Included in this collection are materials pertaining to Pahlmann's work on The Forum of the Twelve Caesars. This collection is currently being processed with grant funding from the NHPRC and will be made available to researchers upon completion of the grant.
---
Kenton Jaehnig is the processing archivist for the William Pahlmann Papers