Wednesday, February 6, 2013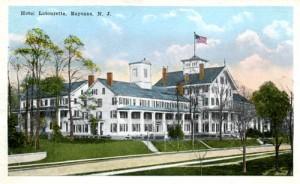 It has been said of the Hotel Latourette in Bayonne, New Jersey, that for many years it was "the most fashionable resort in the suburban district of New York." As you drive north on the New Jersey Turnpike today approaching New York City, the thought of a "fashionable resort" in any of that rather blighted region might strike you as strange. But it was once possible. Sometimes called the La Tourette House, this grand hotel, opened in the 1840s, stood at Bergen Point right on the Kill Van Kull, the waterway between New York Harbor and Newark Bay. It advertised that is was "situated on high ground on the north shore… There is always a cool invigorating breeze from the ocean during the summer… a constant movement of yachts and vessels on the water directly fronting the house presents a panorama that is never tiresome, and very interesting."
Of more local interest, the Hotel had been built on the site of the first house owned by the DuPont family in the United States. In 1799 Madame Francoise du Pont (Mrs. Pierre S. du Pont de Nemours) and her son-in-law, Bureaux de Pusy, preceded the rest of the family in coming to the United States, where they had been instructed to purchase a house not far from New York City. They bought one that had been constructed around 1760 on Bergen Point in New Jersey, with easily available water transportation to New York. They named it "Bon Sejour" (later to be known as Goodstay), and in early 1800 most of the rest of the family arrived. E. I. du Pont eventually moved his family to the banks of the Brandywine in 1802, but Victor du Pont remained behind with his family. His son, Samuel Francis du Pont (who became an Admiral in the U.S. Navy during the Civil War) was born at Bon Sejour in 1803.
The du Ponts sold the property in 1806 and, eventually, it was owned by the Mullany family, who built a larger house there but closer to the water. In 1845 the property was sold to David La Tourette, a retired sea captain, who added to the Mullany mansion and turned it into a hotel. The original du Pont home was kept as lodging for workers at the hotel until it burned in 1892. The only pictures of Bon Sejour show it towards the end of its existence. The hotel itself was condemned and torn down in the 1920s.
The postcard of the Hotel Latourette is found in Pictorial Collections Accession 1970.180, material from the files of Margaret L. Kane, a researcher who worked for Pierre S. du Pont before the creation of the Longwood Library.
---
Jon Williams is the Curator of the Pictorial Collections Department at Hagley Museum and Library