Merriam-Webster, the oldest dictionary publisher in America, selected the term "gaslighting" as their 2022 Word of the Year. This term means "the act or practice of grossly misleading someone especially for one's own advantage." In our world of conspiracy theories, "fake news", and unproven rumors circulated on the internet and social media, it is easy to understand why this word was chosen.
The term references a 1938 play that eventually was made into a movie of the same name. In it, a husband manipulates his wife's mind to make her believe she is going insane. One of his tricks was to convince her that the gas lights in their home were not dimming and that it was only in her imagination.  
Recently, Hagley was approached by the US Court of Appeals for the Federal Circuit to develop an exhibit of patent models involved in important patent litigation for their newly renovated research library in Washington DC. During my research, I came across this patent model for a gaslighting apparatus, or gasoline-fueled burner, invented by Charles Gibson. Not only did Gibson invent this literal gaslight, but he was involved in some rather unsavory "gaslighting" of a fellow inventor.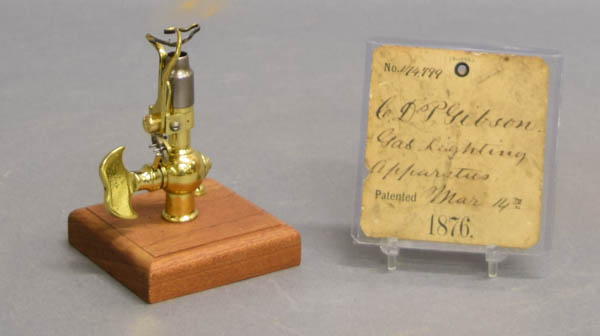 In the nineteenth century, many creative people with a bent for tinkering dabbled in inventing. One of these was Charles D. P. Gibson. Though he started out in watchmaking, he drifted into other industries as they entered the marketplace during this golden age of inventing such as gas lighting fixtures and electrical devices. Determined to pursue the next big thing, he later turned to automobiles. 
Looking for a shortcut, in 1896 he purchased a steam-driven car built by George Eli Whitney. The car Gibson purchased was similar to the example seen on the right, a Whitney 1896 Steam Car that sold at Bonham's auction house in England in 2003. Whitney was related to Eli Whitney, the inventor of the cotton gin. Hagley owns patent models associated with two other members of the Whitney family and they are on display in Nation of Inventors.
For this car, Gibson paid the astounding price of $2,500—about $88,000 today. The cost did not matter for he hoped to make a fortune off the car. His plan: take it apart and file patents on its components. Yeah, you can't do that. It is moments like this, which have happened countless times in our nation's history, that demonstrate why the patent system in America was enshrined in our Constitution in the first place. Protecting the rights of artists and inventors is key to the development of our industries. 
Naturally, Whitney sued Gibson for patent infringement and won the case. Despite his victory over Gibson's efforts to "gaslight" him, Whitney's victory was not without cost. His wife ran off with Gibson's attorney. 
Undeterred, Gibson later built an automobile of his own design. What was unique about this car was that it was powered not by gasoline, but by carbonic acid, though gasoline had a supporting role. His machine required a burner like the one represented in the patent model to heat the acid. And what did he use as a fuel source for this burner? Gasoline! Perhaps Gibson would have had more success if he simply poured the gasoline into the car's fuel tank instead.  
A long-term exhibit of five patent models will be installed at the United States Court of Appeals for the Federal Circuit, where important patent litigation cases are resolved, in January 2023.
Chris Cascio is the Alan W. Rothschild Assistant Curator, Patent Models at Hagley Museum and Library