Monday, November 20, 2023
Each year, I mine patents for something unique and interesting to add to Hagley's holiday displays. This year I decided to tackle artificial Christmas tree patents.
If you Google "who patented the first artificial Christmas tree," the first answer that pops up is the Addis Brush Company in the United States which, in 1930, began using technology for manufacturing toilet brushes to create trees. This is repeated on web pages, blog posts, even in books and newspaper articles. The trouble is, only one part of that statement is fact.
"Brush trees" fall into two types. The first, sometimes called a "bottle brush" tree, has a twisted wire trunk with bristles in a conical shape (top). The second has multiple individual twisted wire branches with bristles that resemble pine needles. This latter form is referred to as a "toilet brush" tree (bottom).
Did the Addis Brush Company patent and manufacture these trees in the United States? Nope. Not only could I not find any patents assigned to them, but I found no evidence of any company by that name here in America. I reached out to the research staff at the Hagley Library and they struck out too.
But there was an Addis Brush Company in England. And I was lucky enough to correspond with the last Addis to be associated with the company, Robert Addis IV. Founded in the 1780s, Addis started out making toothbrushes. They were made from hand-shaped ox bone with holes drilled in the head for natural horsehair or boar bristles secured with silver wire. Around the 1930s, they switched to an injection molded plastic body and nylon bristles. They also made specialty brushes like nail, shaving, and hairbrushes. During World War II, in addition to countless toothbrushes, they manufactured other things for the war effort including twisted wire brushes for cleaning gun barrels.
So, Addis manufactured brushes in the 1930s and twisted wire brushes during the War. Did they ever make Christmas trees? Well, yes…but about 40 years later. According to Mr. Addis, the company purchased another smaller company around 1970 that made Christmas trees in England. But those trees were made of tinsel, not bristles, and never carried the Addis name. The company was never successful and Addis quit the Christmas tree business after only a few years.
If Addis didn't make these trees, who did and when? Technology existed for mass production of twisted wire brushes by the early twentieth century. Starting in the mid-nineteenth century, numerous patents were filed for twisting wire to make products like bail handles for buckets, covers for beer and wine bottles, clothespins, staples, even paper clips. The oldest patent found for a twisted wire brush "for cleaning boiler-tubes, cannons, and for various other uses" was issued to John B. Christoffel in 1873 (#138,317). Another was issued to William Braun in 1904 (#748,917) "for cleaning lamp chimneys, bottles, jugs, jars and other vessels." The earliest patent found for a wire twisting machine was issued to George D. Henry and assigned to the Swift Fly Swatter Company in 1916 (#1,186,781).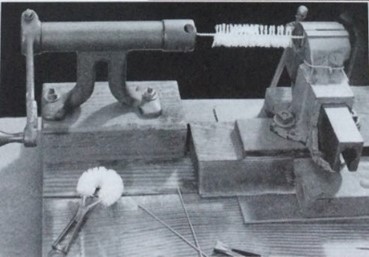 Who was making these brushes? The most successful manufacturer was the Fuller Brush Company. They offered brushes for a dizzying number of special purposes from cleaning vegetables, silk hats, and even spittoons. No Christmas tree patents were assigned to the company.
By examining Fuller's patents, I started looking into American Brush. The American Brush Machinery Company of Mount Vernon, NY (later American Technical Industries, Inc.) patented several improvements to brush making machines in the 1950s. They cited patents assigned to Fuller Brush decades earlier.
Despite these innovations, by the late 1950s American Brush was failing. To find other uses for their machines, they experimented with making artificial trees. First, they made bottle brush trees in pastel colors (as seen in the photograph in this article) which were a short-lived decorating fad at the time. Then they experimented with green polyvinyl chloride plastic but could not make a realistic-looking tree. Also, this was the start of the aluminum tree craze so there was little demand for the trees anyway. They sent a senior machinist, Si Spiegel, to close the factory.
Spiegel still thought the factory could be profitable and convinced management that he could improve upon the process. He went to work, even bringing in fresh pine trees as models. Not only did he greatly improve their appearance, but made the machines faster. Management gave Spiegel his own division called American Tree and Wreath. Sales accelerated as interest in aluminum trees waned—thanks in no small part to the scorn heaped upon the trees by Charlie Brown and the Peanuts gang in their 1965 animated Christmas special. The company became one of the leading manufacturers of artificial trees. By the mid-1970s, Spiegel's machines produced 800,000 trees a year or about one every four minutes. Here is one of his patents: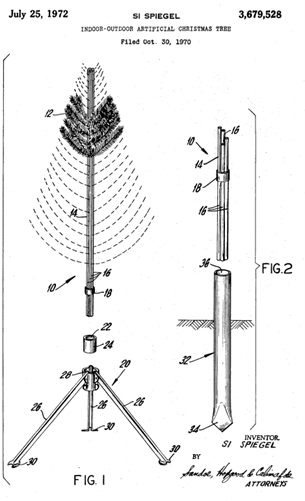 To circle back to the original question, the first patent I found for an artificial Christmas tree in America was granted to August Wengenroth of Troy, NY in 1882 (#255,902). But trees constructed of natural and artificial materials existed long before then. Like most consumer products, it is difficult to pin it on one patent.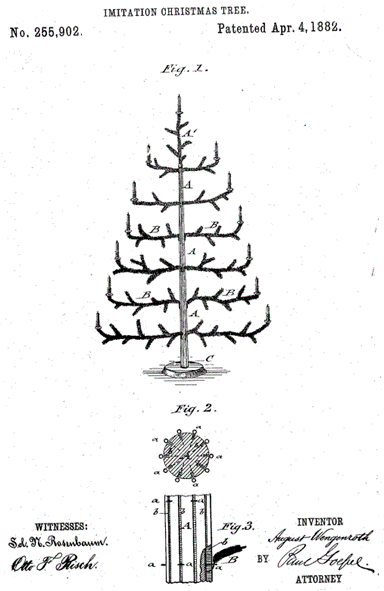 There were many inventors and manufacturers worldwide who contributed to their development.
We can say for sure that despite what you may read on-line or in publications, it was not the Addis Brush Company in the United States in the 1930s. We can also prove that artificial trees were indeed made by machines developed in the 1950s by the American Brush Machinery Company to manufacture twisted wire brushes like those used to clean toilets.
If you want to learn more about the development of artificial Christmas trees here in America, stop by Hagley this holiday season. We will be handing out a special booklet featuring patent drawings of artificial trees that goes more in-depth into the stories behind the trees and their inventors.
Chris Cascio is the Alan W. Rothschild Assistant Curator, Patent Models at Hagley Museum and Library