At the end of April, I had the honor of speaking at a luncheon celebrating the Centennial of Historic Kenmore. Located in Fredericksburg, Virginia, Kenmore was the home of George Washington's sister, Betty Washington Lewis, and her husband, Fielding Lewis. Completed in 1776, the Georgian-style mansion, with its decorative plaster ceilings and period furniture, was part of the Lewis's 1300-acre plantation.
Kenmore's Centennial marked the occasion of the home and grounds being saved from demolition. The Kenmore Association, a group of determined, persistent women, led by Emily White Fleming and her daughter, Annie Fleming Smith ("Miss Annie"), struck up a deal with the then owner of Kenmore: the group must make a payment of $10,000 in the first four months, or the deal would be off.
The ladies worked tirelessly to raise enough money to purchase Kenmore and save it from almost certain destruction. The Association's first payment of $12,000 (2k over their deal!) was made in September of 1922. The final payment of $1,000 would come three years later, on January 1, 1925.
It turns out that Hagley and Kenmore have one very remarkable person in common; someone who was instrumental in making both Kenmore, and Hagley, places that people could visit and enjoy. Louise du Pont Crowninshield, the last resident of Eleutherian Mills (the du Pont ancestral home here at Hagley), and a driving force behind making Hagley a museum was part of the Kenmore Association.
Louise was extremely active in the field of historic preservation. Traces of her influence can be found up and down the east coast – as well as nationally when you consider her involvement in the National Trust.
But Louise's work at Kenmore began quite early in her "career" of historic preservation, around 1931. She was on the Kenmore Board of Regents, serving as the regent from Delaware, and eventually became President of the Kenmore Association in 1940 and held that title until 1954. Louise acted as a fierce advocate for the organization, working closely with Emily and Miss Annie to fundraise and garner interest in the site. Louise even held a "Kenmore Day" at Eleutherian Mills to raise money for the organization. She was also heavily involved in the furnishing of Kenmore, frequently buying and sending appropriate antique pieces to include on display.
These three women, Louise, Emily, and Annie were of the same circle; they were part of a larger network of preservationists during the first half of the 20th century. These women were getting. things. done. – together.
Overall, what I find so impressive is that the women of Louise's time were able to build such a strong network that was not deterred by their place of residence or their "home" institutions – nor was it deterred by the growing male professionalism in the field of historic preservation. The reputation of women like Louise, Emily, and Miss Annie preceded them. For Louise in particular, she had no formal higher education, but she was seen as an authority in the field.
Today, we see that the Kenmore Board of Regents is still going strong. The group had a rare opportunity to recreate a photograph of Regents from the past. This Centennial photograph of Kenmore's Regents will surely be recreated at the next celebration 100 years from now.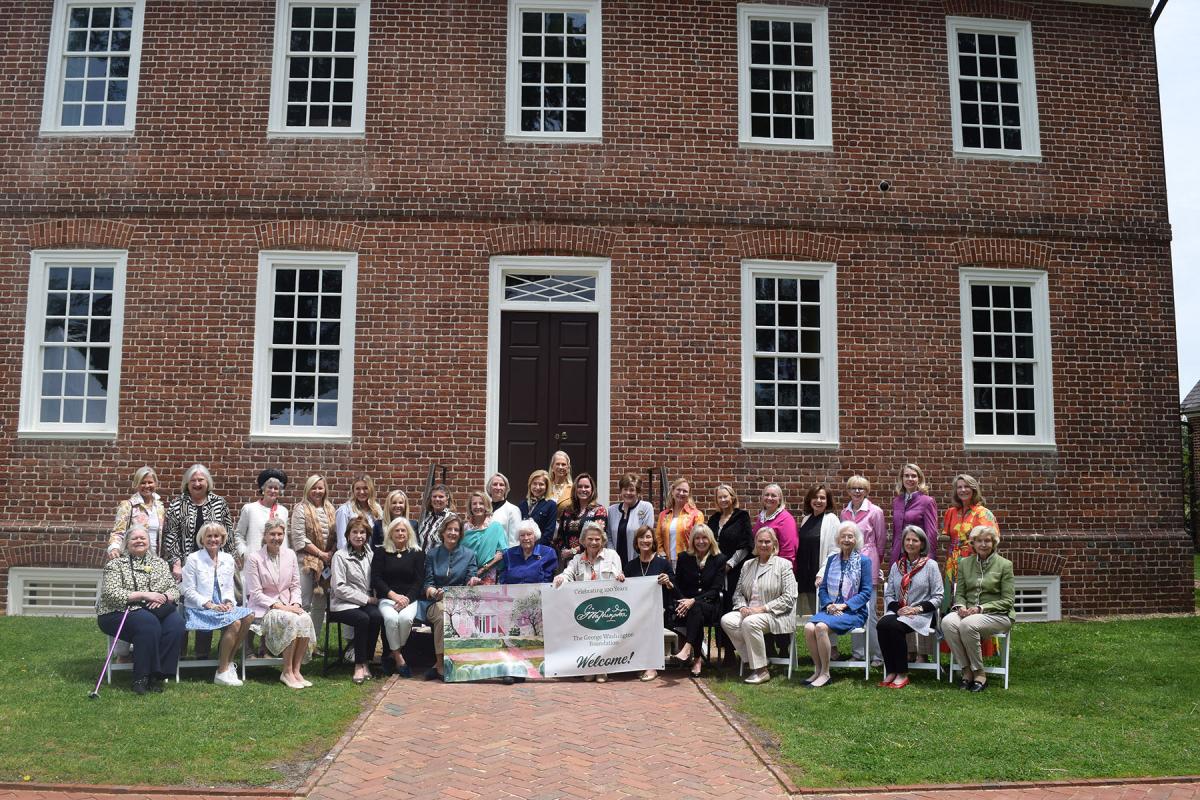 Special thanks to The George Washington Foundation & Meghan Budinger, Aldrich Director of Curatorial Operations. To learn more about Kenmore and The George Washington Foundation, visit https://kenmore.org/
---
Caroline Western is the Museum's Curator of Collections​ at Hagley Museum and Library.