Friday, December 20, 2013
Charles M. Wine and Robert J. Klensch were two scientists whose work at the David Sarnoff Research Center in Princeton, New Jersey, influenced the invention of several devices which changed the world of electronics during the 20th and early 21st centuries.
Armed with a Bachelor's Degree in Electrical Engineering (Cum Laude at City College of New York) Wine began work for RCA Laboratories in June, 1959, as a Member of the Technical Staff. Forty years and 60 patents later he retired as "Distinguished Member of the Technical Staff" of Sarnoff Corporation, having received several awards for achievement in​ electronics. Among other areas of electronics, Wine was assigned to improve computer technology, including screen display, graphic displays, color display, electrostatic printers, and voice recognition. In addition, he developed electronic TV tuning systems, techniques to improve audio and video signals, 2-way cable TV and early concepts of 3-D and HD television. Virtual reality game systems, remote controls for television, digital boxes for cable TV, the improvement of military weaponry—all are projects associated with Charles Wine.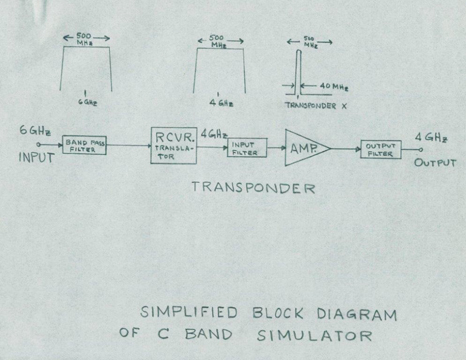 Klensch's C-Band simulator. C-Band are wavelengths of microwaves used for long distance radio and satellite communication. 
Robert J. Klensch joined RCA Laboratories in 1952, having received his Bachelor's Degree in Electrical Engineering at the University of Illinois. His immediate assignment involved research in the area of radar. Later in his career, and after his experience with radar in the U.S. Army, he was instrumental in improving radar for the military, and radar for automobile collision avoidance. Along the way, he researched and augmented the development of microwave scanning antennas, as well as infrared detection systems, electronic ID devices for recognition of cars at toll booths, and high-speed computer tape drives. Much of Klensch's work was in the field of Satellite Communications. He helped to develop earth systems, satellite communication simulators and anti-jamming devices. His work in the areas of video and audio reception via satellite was praised as exceptional achievement.
Wine's patented Single Button Control for increasing and decreasing volume on televisions.
The documents at Hagley collected by Charles Wine and Robert Klensch include internal correspondence, lab notes and scientific reports on inventions which pioneered some of the more important advances in technology in the past 60 years. Much of the information has been declassified, but those dated 1988 and more recent remain time sealed. 
Please click on the links below to access each finding aid:
Charles M. Wine papers
Richard Klensch papers
Dave Burdash is a processing archivist in the Manuscripts and Archives Department.