Sunday, December 22, 2013
Hagley is excited to announce the addition of a significant collection of sewing machine trade journals to the Digital Archives. Seventeen volumes of the Sewing Machine Times spanning the years of 1891 to 1911 have been digitized and are available to view. This period represents a robust time in the sewing machine industry and the journals offer a window into the work done by manufacturers, salesmen, and related experts during that time. The journal was published bi-weekly and the articles offer news about production, patent work, and innovations in the sewing machine trade when changes were fast and furious due to the competitive nature of the companies producing machines and the high demand for sewing products. In addition, the journals provide historians a look into how people marketed and sold machines, and how those who were buying the machines interacted with them. The multitude of information in each issue truly represents the scope and impact American-made sewing machines had in the United States and eventually around the world.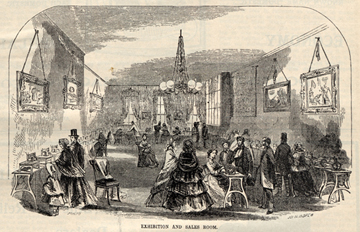 Any single issue of the Sewing Machine Times would likely contain the following: a profile of a leader in the sewing machine industry, an article about a new sewing machine accessory, notes on advances in design, dispatches from those in the field selling machines door to door, articles on retail showrooms, employment notices, reports of crimes and fires that impacted machine manufacturers, advertisements, sewing machine limericks, and even birth, marriage and death announcements of employees from the sewing machine trade. There is also no shortage of amusing items unique to the time the publication was produced. In 1907 there is a brief note on the advantages of using a "Teddy-Bear" in sewing machine advertisements. A news item in 1908 includes an illustration showing a combined mechanical piano-player and sewing machine for "agreeable home entertainment." In an issue from 1910 there is a brief article titled "Sewing Machine for the Dead" which contains a photograph and brief description of a Native American offering for the dead using, you guessed it, a sewing machine!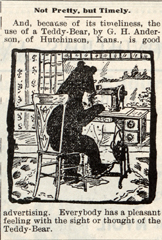 Sewing Machine Times offers a window into a time when machine-made clothing was a new and exciting concept. It is easy to forget that a hundred years ago it was a common sight to walk into a home and see a sewing machine prominently featured; it was just as important to the household as a refrigerator or washing machine is today. The sewing machine would be a lifesaver for women who had been accustomed to spending a great deal of time sewing clothing by hand for themselves and their family. For clothing manufacturing the machine would of course revolutionize how clothing was made for a population that was fast becoming consumers instead of makers.
Karla Irwin is the Digitization Technician in the Digital Collections Department at Hagley.