Tuesday, November 26, 2013
With the recent announcement of the shutdown of the Evraz Claymont Steel plant, the tradition of steel manufacture in Claymont, Delaware, is possibly coming to an end. That tradition began in 1917 with the formation of the Worth Steel Company. The beginning of the tradition is documented in photographs and records at Hagley Museum and Library.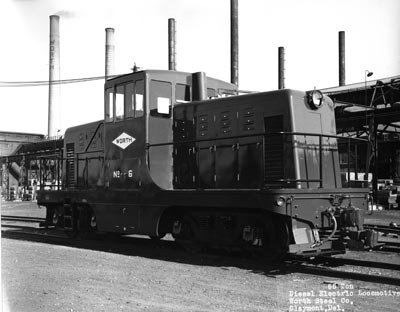 The Worth family entered the iron and steel business in the mid-1800s, first in Elkton, Maryland, and then in Coatesville, Pennsylvania. The operations in Coatesville produced high-grade steel plate for boilers, tanks, and ships, along with boiler tubes. Those facilities were sold to the Midvale Steel & Ordnance Company in 1915, and the Worth brothers eventually started a company to build a steel plant in Claymont, Delaware, on a site along the Delaware River directly on the Pennsylvania Railroad line from Philadelphia to Wilmington. They continued to make steel plate and pipe. The company was sold to the Colorado Fuel & Iron Company in 1951 and a variety of owners followed through the ensuing years.
The photograph collection (Accession 1976.246) consists of 217 photographs that show the beginnings of construction on the Claymont site, operations at the mill through the years 1920-1950, equipment and products, and a ceremony when Worth Steel received the Army-Navy "E" Award for production during World War II. There are also views of workers' housing and community buildings, as well as aerial photographs showing the plant and vicinity. [There are also a number of aerial photographs showing the Claymont steel plant in the Dallin Aerial Survey photograph collection (Accession 1970.200). Many of these can be seen in our online archive.] The archival records are in Accession 1529 in the Manuscripts and Archives department. A detailed description of them can be found in the online library catalog.
Jon Williams is the Andrew W. Mellon Curator of Prints and Photographs at Hagley Museum and Library.