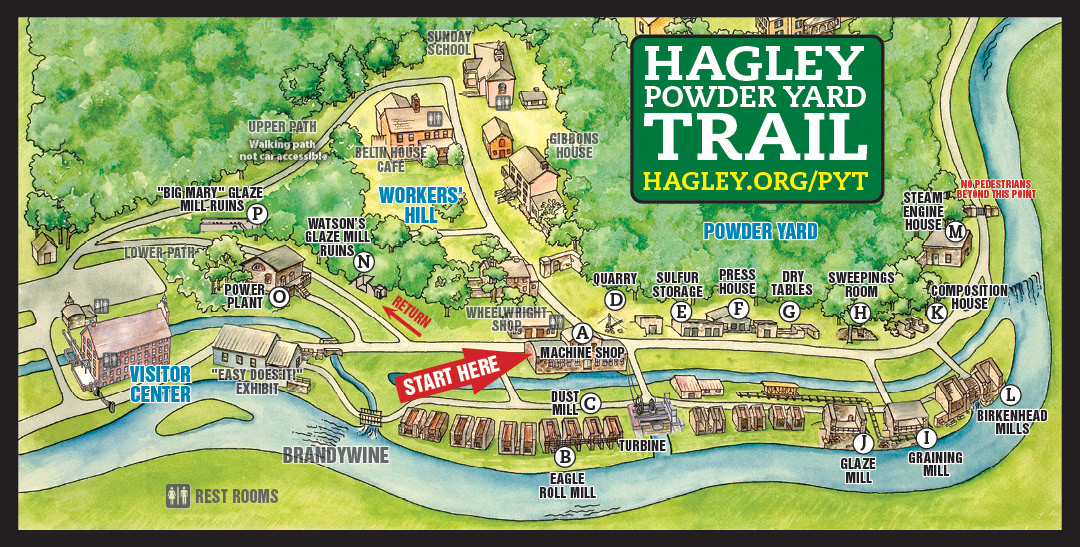 Welcome to Hagley's Powder Yard Trail!
The trail is designed to explain the process of how the DuPont Company made blasting powder and gunpowder. You will also discover the purpose of many buildings and sites throughout the powder yards.
The process of manufacturing explosive black powder can be broken down into three major phases: preparation, production, and packing. Throughout the trail you will see signs with the icons to the right. They will help identify which step in the process took place at each site. The signs will also describe the process in more detail.
The DuPont Company manufactured gunpowder and blasting powder here from 1802 until 1921 when the yards were shut down. By then the company was making a transition from producing explosives, for which a knowledge of chemistry was helpful, to researching and developing chemical products entirely. In 1957 this site was reopened as the Hagley Museum and Library.
Enjoy your walk through Hagley's industrial past!
You can download a PDF version of the Powder Yard Trail tour map here.
Did you know?
DuPont's workplace motto of "Safety First" originated in the need to keep the powder yards as safe as possible for its workers.
All workers were checked at the gates for matches, alcohol, and metal in shoes, suspenders, and belts.
In spite of rigorous safety precautions, there were 288 explosions in the Brandywine powder mills between 1802 and 1921, resulting in 228 deaths.
Gunpowder was used to build canals, roads, tunnels, quarry rock, and to clear land.
From the 1870s on, dynamite made gunpowder obsolete for most civil engineering work.
Map Key Text:
A:     Millwright Shop - The Powder Yard Trail begins at this building with an exhibit about making black powder.
B:     Eagle Roll Mill - Demonstrations are scheduled throughout the day.
C:     Dust Mill
D:     Stone Quarry       
E:     Ingredients Store House/Sulfur Storage
F:     Press House
G:     Drying Tables
H:     Sweepings Room
I:     Graining Mill  
J:     Glaze Mill
K:     Composition House
L:    Birkenhead Mills
M:    Steam Engine House
N:     Watson's Glaze Mill Ruins
O:     Power Plant
P:     "Big Mary" Glaze Mill Ruins