Also known as: Victor and Charles du Pont
Owners: Victor du Pont, E. I. du Pont, Peter Bauduy, Raphael Duplanty, Charles I. du Pont
Industry type: Textile mill
Location: Louviers
Active dates: 1810-1856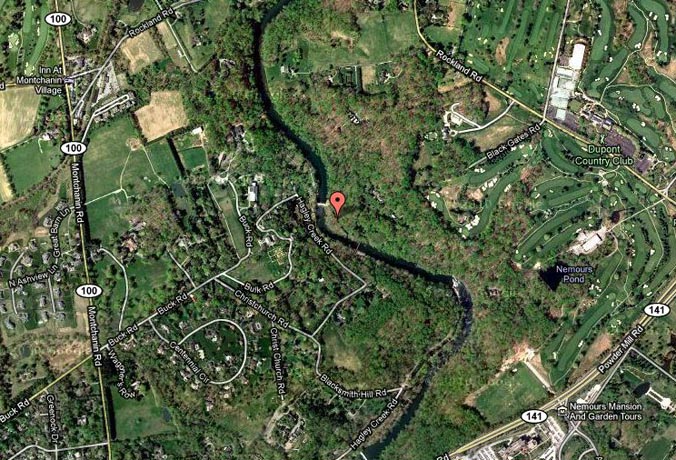 Summary: Du Pont, Bauduy, & Co. was a textile manufacturing firm founded on June 19, 1810 by Victor du Pont, E. I. du Pont, and two of E. I. du Pont's early business partners, Peter Bauduy and Raphael Duplanty. Bauduy bought the land on which the Louviers textile factory would be built from William Anderson in 1805. The first two mill buildings were built in 1811, and an adjacent parcel of land was purchased from William Anderson's son Isaac in 1812.
DuPont, Bauduy, & Co. began manufacturing cloth in December 1811. They achieved early success selling their products to the government during the War of 1812, and both James Madison and James Monroe wore coats made from the company's cloth at an 1812 New Year's Reception held at the White House. However, interpersonal conflicts caused the departure of Raphael Duplanty in 1813 and Peter Bauduy in March of 1815, leading Victor du Pont to purchase the business outright that year.Du Pont's eighteen-year-old son Charles became a partner and the company's name was changed to Victor and Charles du Pont.
Victor du Pont died on January 30, 1827 and Charles took over the company, renaming it Charles I. du Pont & Co. The business continued to operate until 1856.
Citations: Riggs, John Beverly. A Guide to the Manuscripts in the Eleutherian Mills Historical Library: Accessions through the year 1965. Wilmington: Eleutherian Mills-Hagley Foundation, 1970.
Zebley, Frank R. Along the Brandywine. Wilmington: William Cann, Inc., 1940, 109-112.
Primary sources: Alfred du Pont to Henry du Pont, December 25, 1850. Winterthur Manuscripts Group VII: Letters of Alfred V. du Pont. Hagley Museum and Library.