Owner: Adam Kirk, Samuel Kirk and Caleb Kirk
Industry type: Flour mill, Saw mill, Textile mill, and Barley mill
Location: Rockland, on the West side of the Brandywine across from William Young
Active dates: Mid-18th century through early 19th century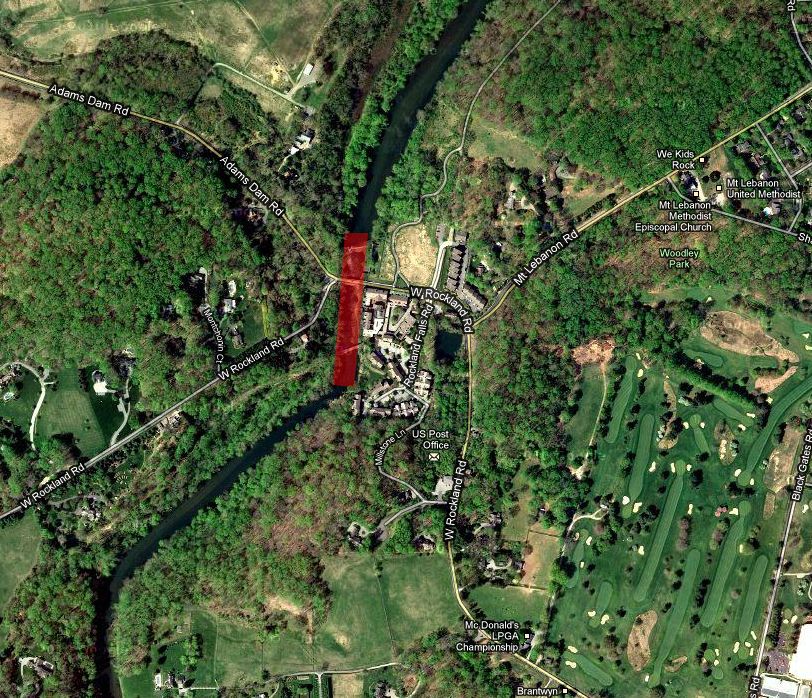 Summary: The village of Rockland was originally known as Kirk's Ford. Adam Kirk received a land grant from William Penn's sons in 1744. He operated a gristmill and possibly a sawmill and also owned a grist mill on Mill Run which was purchased from Samuel Gregg, the brother of John Gregg who had originally gained title to the land.Adam Kirk died in 1774 and the property passed to his sons Caleb Kirk and Adam Kirk Jr.; Caleb bought out his brother's share in 1777. Caleb Kirk was member of Brandywine Mill Seat Company and also had his hand in many other projects (and had many debts). He ran a sawmill, which was deeded to his son Caleb Kirk Jr. on March 25, 1819. Samuel and Caleb Kirk had mills across the river from William Young, and in 1798, entered into an agreement with Young to share maintenance of the dam.The stone cotton factory on the property was probably built in 1803 as the mill's cornerstone is inscribed "S. Kirk 1803." The cotton factory was no longer in use by 1815. The site also contained a stone house built in 1816 and a stone stable where mules were kept for transporting finished goods. The former Caleb Kirk Cotton Mill was also used as a tin shop and later a farm building. All three mill buildings got some or all of their water power from Wilson's Run.
Sources: Boatman, Roy. The Brandywine Cotton Industry, 1795-1865. Hagley Research Report, 1957.
Hancock, Harold. Advertising Practices of Selected Wilmington and Brandywine Firms, 1800-1900.
Hagley Research Report, 1962, 28.Hancock, Harold. The Industrial Worker Along the Brandywine. Hagley Research Report, 1956, 6.
Scharf, John Thomas. History of Delaware 1609-1888. Vol. 2. Philadelphia: L. J. Richards & Co., 1888.
Zebley, Frank R. Along the Brandywine. Wilmington: William Cann, Inc., 1940, 101-107.