Born in England in 1897, J. Victor Dallin's family emigrated to Canada when he was eight years old. As soon as Dallin came of age, he joined the Canadian military and eventually joined the Royal Air Corps. As a member of the RAF he received pilot's training and took his first aerial photographs during World War I.
At the end of the war, Dallin joined a flying team headed by flying ace Lt. Col. William Barker. The team, headquartered out of Ontario, flew exhibitions and ferried surplus planes to customers in Canada and the United States. When the team disbanded in 1920, Dallin was hired as a pilot for the Aero Service Company operating out of the Island Road airfield in Philadelphia (located near the current site of the Philadelphia International Airport). The primary business of the Aero Service Company was transporting passengers on weekend excursions. At the suggestion of Dallin, they added aerial photography to their business, selling most of their images to newspapers and magazines. Dallin, uncertain about the future of Aero Service, left to form the Dallin Aerial Survey Company in 1924. He relocated his company first to Clementon, New Jersey but returned in 1926 to the Island Road airfield, which had been renamed the Philadelphia Municipal Airport.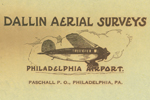 While Dallin took aerial photographs throughout the United States as well as Canada and Cuba, the majority were taken in the Mid-Atlantic region primarily around the Philadelphia metropolitan area. The company photographed every imaginable element of the landscape during the company's 17-year history. They also captured a number of newsworthy events ranging from the Army-Navy Football games to the arrival (and burned remains) of the airship Hindenberg in Lakehurst, New Jersey. Dallin's interest in aviation is evident in the many images of airfield dedications, air meets, and races during the 1920s and 1930s.
Dallin took photos on speculation and hired salesmen at various times during the company's history. He also worked on contract, specializing in photos of industrial sites, special events, private estates, mapping related projects, and images for real estate sales and speculation. The company compiled the first aerial survey map of Philadelphia in the 1920s.
The company shut down in 1939 soon after three of Dallin's staff joined the armed forces. Dallin followed his employees into the service commanding air bases in Jamaica, the West Indies, Brazil, and Spanish Guiana during World War II. He went on to command the Air Force Navigational School in San Marcos, Texas. In 1945 he was named Chief for the Bureau of Aeronatics by the City of Philadelphia, a position he held until 1953. Dallin worked for the National Association of Manufacturers and then as technican for an optical firm until his retirement in 1970. He died in 1991 at his home in North Carolina.