Industry type: Flour mill
Location: Orange Street, Brandywine Village
Active dates: 1742-1755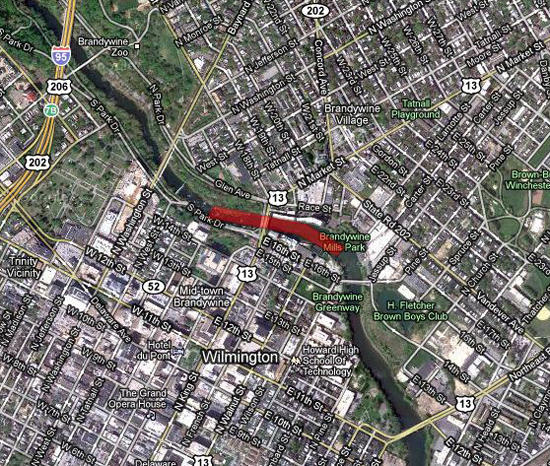 Summary: In May of 1729, Samuel Kirk sold a plot of land between what was then known as Ferry Street [French St.] and Ford Street [Adams St.] to John Richardson. There were already two grist mills and two boulting, or sifting, mills on the site. John Richardson deeded the property to Samuel Scott on June 10, 1739; Timothy Stidham later owned the property at some point during the 1740s.On March 17, 1749, Oliver Canby purchased four acres of the land. In 1752, he built a flour mill at the foot of Orange Street on the south side of the Brandywine. Upon his death in 1755, his nephew Thomas Shipley acquired the property.
Citations: Conrad, Henry Clay. History of the State of Delaware, Vol. 2. Lancaster, Penn.: Wickersham Company, 1908, 418.Scharf, John Thomas. History of Delaware 1609-1888, Vol. 2. Philadelphia: L. J. Richards & Co., 1888, 760.Welsh, Peter C., "Brandywine: An Early Flour-Milling Center," from the Smithsonian Report for 1959. Washington: Smithsonian Institution, 1960.Zebley, Frank R. Along the Brandywine. Wilmington: William Cann, Inc., 1940.
Online sources / images: Ingleside Mansion, built by Oliver Canby, illustration, c. 1850. Hagley Digital Archives.Mill Seats on the Brandywine River, map, 1813. Hagley Digital Archives.