Traveling Medicine Show, 1892
Photograph of the Kickapoo Indian Medicine Company, taken at Henry Clay Village (Tower Road and West 19th Street in Wilmington, Delaware) by photographer Pierre Gentieu.
---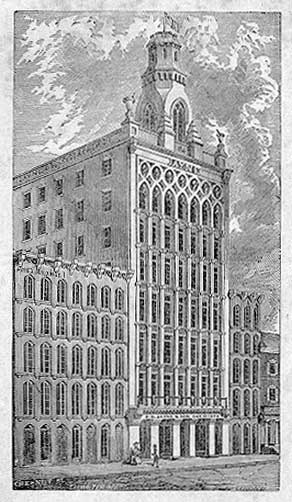 Jayne Building, Philadelphia, Pennsylvania, circa 1870
David Jayne (1798-1866) purchased a drug store in Philadelphia in 1836. His patent medicine business grew quickly, and he built this new building (designed by Thomas U. Walter) in 1850. The firm of Dr. D. Jayne and Son was one of the largest patent medicine firms in the United States, and this building was "the most conspicuous building of the time" in Philadelphia. It has since been demolished.
---
Brandywine River area photography including the E.I. DuPont de Nemours Company Powder Yards and the surrounding community by Pierre Gentieu, Pictorial Department. For permission to reproduce or publish images, please contact research@hagley.org.