Owner: Robert Hilton, Thomas Hilton, William Hilton
Industry type: Textile mill
Location: Walker's Mill
Active dates: 1827-1835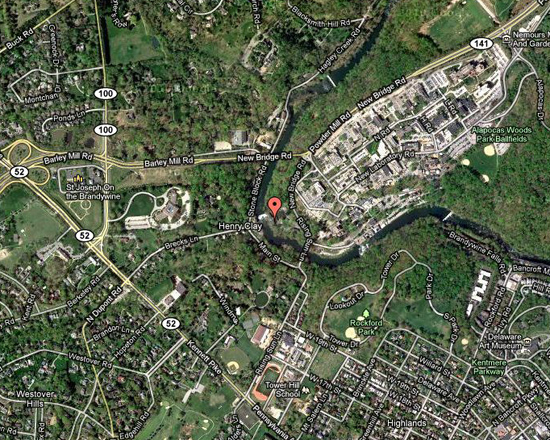 Summary: The Hiltons are the next known tenants of Simsville Mill (later known as Walker's Mill) after John Siddall & Co., although the mill itself changed hands several times in the interim. Joseph Sims first attempted to sell the mill in October of 1823 but could find no buyers. The property was seized by the sheriff and sold on June 10, 1825. The buyers may have been David C. Wilson and Joseph C. Gilpin, who attempted to either lease or sell the mill during the spring and summer of 1826. Sheriff Peter B. Delaney ended up with the property, and the Farmer's Bank of Delaware purchased it from him on May 19, 1826. On November 17, 1827, the Hiltons purchased the property from the bank for $11,545.By 1832, the Hiltons were running 3,892 spindles and 28 power looms in an operation that employed 160 people. They spun cotton into yarn and also produced cassimere from wool. The Hiltons had apparently become plagued with financial problems by late June of 1834, when their machinery was sold in a sheriffs' sale. The property was sold the next year at a sheriff's sale held on June 10, 1835. The mill was owned by a series of individuals and firms over the next few years, including Painter, Newman & Co., John B. Newman, Andrew Adams, James Brown, Lea Pusey, William Welsh, and Abraham Boys. The mill was eventually purchased by Alfred du Pont on November 15, 1840.
Citations: Boatman, Roy. The Brandywine Cotton Industry, 1795-1865. Hagley Research Report, 1957.