Also known as: Seidel, Hastings, & Co.; The Seidel & Hasting Company; Wilmington Plate Iron Works
Owner: Henry B. Seidel, Washington Hastings, Edward Canby
Industry type: Metal works
Location: Church Street at 9th Street
Active dates: c. 1864-1900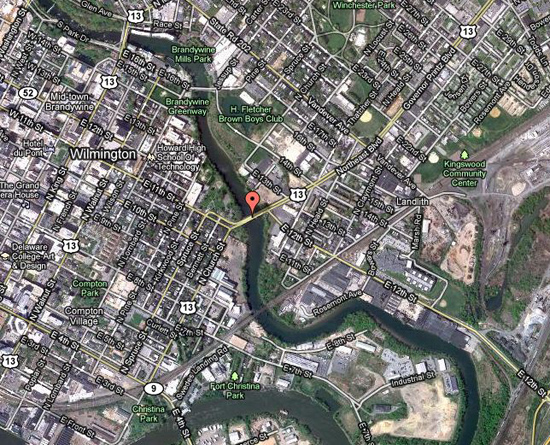 Summary: In 1864, Henry Seidel purchased property along the lower Brandywine that would become the site of his new company. A rolling mill had already been operating on the site for over eighty years. Seidel was joined by business partner Washington Hastings in 1867, and Edward T. Canby became a partner in 1884.Seidel & Hastings made a variety of metal products, but specialized in making large iron plates that were used to create boilers as well as iron ships. A new 125-foot-long building with all new machines was built in 1870 on the Church Street side of the property. By 1873, the company could make 5,000 to 6,000 tons of plate iron each year when the mills ran around the clock. There was also a five-fire iron forge on site to create charcoal and boiler iron.
Citations: Scharf, John Thomas. History of Delaware 1609-1888, Vol. 2. Philadelphia: L. J. Richards & Co., 1888."Wilmington and its Industries." Lippincott's Magazine of Popular Literature and Science, April 1873, 369-388.
Online Primary Sources/Images:Pomeroy and Beers, Atlas of the State of Delaware, 1868. Hagley Digital Archives.