Industry type: Barley mill, Flour mill
Location: Adams Street
Active dates: c. 1679-1749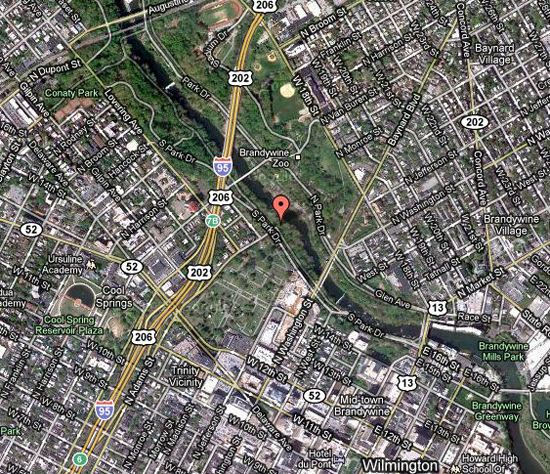 Summary: Dr. Tyman Stidham, a Swedish immigrant and Wilmington's first doctor, left his land on the south side of the Brandywine to his eight sons. One of Stidham's sons had died, and the land passed to Stidham's grandsons, Timothy and Luloff. Timothy expanded his plot of land by purchasing additional plots from his uncles.One of the Stidhams is believed to have built the first mill on the Brandywine on that site. A mill for cleaning barley was located near the foot of the present-day Adams Street, and some evidence suggests that there was also a flour mill on the site. The mill seats were purchased by Oliver Canby around 1742.
Citations: Scharf, John Thomas. History of Delaware 1609-1888, Vol. 2. Philadelphia: L. J. Richards & Co., 1888.
Zebley, Frank R. Along the Brandywine. Wilmington: William Cann, Inc., 1940.