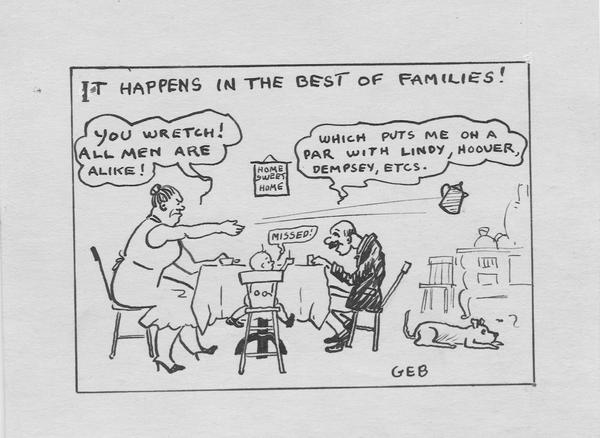 This 1930 #TextileTuesday cartoon was created for the The Eddystone Print and Dye-Jest, a quarterly publication produced by and for employees of the Eddystone Manufacturing Company.
The company began its corporate life in 1877, when William Simpson and John Halliday began operating a textile mill built at the Falls of Schuylkill near Philadelphia. By the time this item was created, the company was manufacturing dyed and printed cotton textiles out of its headquarters in Eddystone, Pennsylvania and had recently been absorbed by the Joseph Bancroft & Sons textile company (it became the company's Print Works Division in 1929).
In the mid-1930s the newly expanded company began producing a line of rayon goods and a cotton finishing process that were marketed under the trade names of "Ban-Lon" and "Everglaze" respectively. The Banlon and Everglaze processes were widely licensed in Europe and America and by the early 1950s foreign royalties accounted for more than seventy per cent of the firm's total profits. In 1961, the Bancroft Company became a division of Indian Head Mills, Inc., of New York City. 
Our digital collection for this physical collection contains photographs and other images related to the Joseph Bancroft & Sons textile mills as well as material from our Joseph Bancroft and Sons Company, Miss America collection (Accession 1972.430). Click here to view this digital collection online in our Digital Archive now.