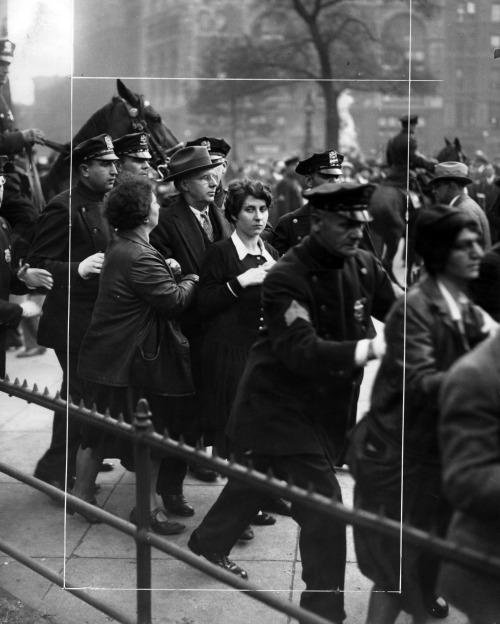 This arresting photograph was taken on this day, October 16th, in 1930, when a coalition of protesters organizing for the rights of the unemployed were rounded up and jailed following a demonstration in front of New York City Hall calling on Mayor Jimmy Walker to abandon plans to appropriate an additional $8,000,000 for the city's police and redirect funds to unemployment relief for those affected by the Great Depression.
Following a violent confrontation with the police, the protest was suppressed. This photograph shows the arrest of J. Louis Engdahl (1884-1932), the Communist candidate for Lieutenant Governor of New York, along with Freda Jackson and Anna Pogribsky, who New York's Daily News described as "two women combatants". Charges of disorderly conduct against all three, as well as fellow protesters Sam Nesin, Robert Lealess, Spiro Curator, and Milton Stone were dismissed for lack of evidence on October 30th. Mayor Jimmy Walker would later be forced to resign in 1932, amidst increasing social unrest and a corruption scandal that revealed that he had been accepting bribes in exchange for municipal contracts.
This photograph is from Hagley Library's collection of Chamber of Commerce of the United States photographs and audiovisual materials, Series II. Nation's Business photographs (Accession 1993.230.II). To view more items from this collection online, visit its page in our Digital Archive by clicking here.