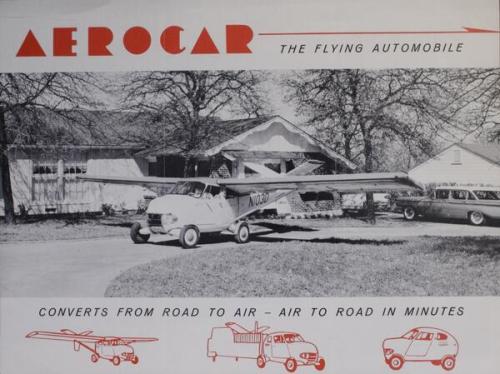 Be the envy of all this #MotorMonday with a not at all ill-advised flying automobile. The 1949 Aerocar was a product of Aerocar International, and the work of aeronautical engineer Moulton B. "Molt" Taylor (1912-1995) of Longview, Washington.
Taylor's design was inspired by a 1946 encounter with Delaware inventor Robert E. Fulton, Jr., who had recently produced his own flying automobile, the 'Airphibian'. After designing his own model, Taylor was able to reach an agreement with the manufacturing conglomerate Ling-Temco-Vought in 1956 to put his Aerocar into production, provided that he could secure 500 pre-orders.
Ultimately, however, Taylor could only secure about half the orders he needed to trigger commercial production, and only six working models of the Aerocar were ever made. The first of these models, built in 1949, is maintained in working condition (though kept earthbound) at the EAA AirVenture Museum in Oshkosh, Wisconsin. Taylor's final attempt at putting the Aerocar into production was the Aerocar III, built in the 1960s from an original model that had been damaged in an on-the-ground accident now resides at Seattle's Museum of Flight.
This catalog is part of the Hagley Library's collection of Z. Taylor Vinson collection of transportation ephemera (Accession 20100108.ZTV). You can view it in full, as well as other material from this collection, by clicking here to visit the collection's page in our Digital Archive.