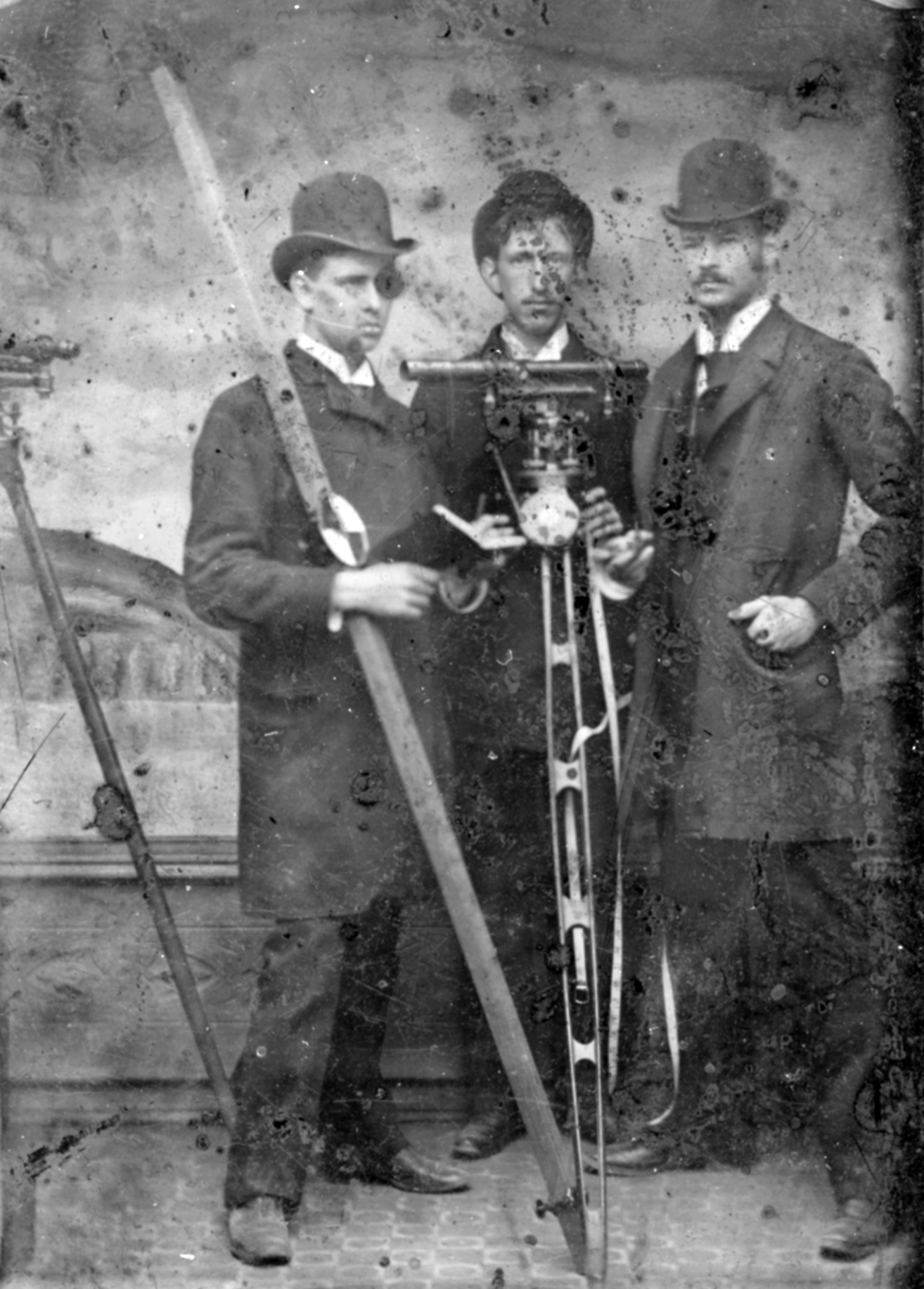 This ca. 1888 tintype shows Walter Dore, William Fenn, and William Poland with surveying equipment. The three were friends and schoolmates of Pierre S. du Pont during his time at the Massachusetts Institute of Technology. Pierre S. du Pont graduated from the Massachusetts Institute of Technology in 1890 and became assistant superintendent of the DuPont Company's black powder mills in Delaware.
William Henry Fenn (1867-1946), who was du Pont's roomate at M.I.T., maintained a relationship with the du Pont family in the years after graduation. After relocating to Delaware from New Jersey in 1903, Fenn, a civil engineer, became the president of the Manufacturer's Contracting Company, which designed and constructed portions of Wilmington, Delaware's DuPont Building and Hotel DuPont.
This image comes from the Hagley Library's P.S. du Pont photographs (Longwood) collection (Acc. 1969.002). Pierre Samuel "P.S." du Pont (1870-1954) was the great grandson of Eleuthere Irenee du Pont (1771-1834), founder of E.I. du Pont de Nemours & Company, and the great-great-grandson and namesake of the French economist, Pierre Samuel du Pont de Nemours (1739-1817). He was also an industrialist, entrepreneur, and philanthropist. He was president of E.I. du Pont de Nemours & Co. from 1915 to 1919 and chairman of the board from 1919 to 1940.
P.S. du Pont du Pont's personal life is well documented by the photographic collection he left, particularly his horticultural interests which developed during his creation of the celebrated Longwood Gardens in Kennett Square, Pennsylvania, where he lived.To view this image and others from this collection in our Digital Archive, click here.