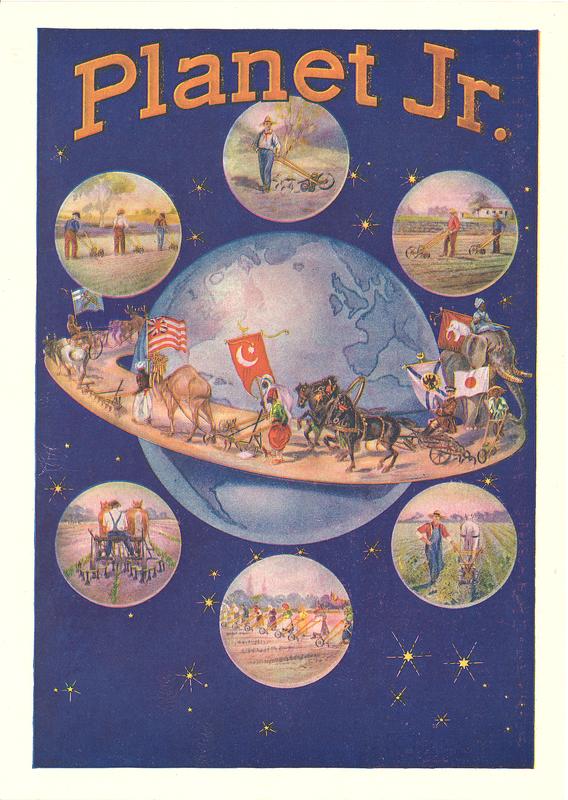 This ca. 1890(?)  trade card is from Hagley Library's Fingerman ephemera collection (Accession 2009.213).  Assembled by collectors Arlene and Gerald Fingerman, the collection consists of mixed-format ephemera from various endeavors within American culture, primarily the manufacturing and selling of products or services.
Advertising cards like this one and labels compose a large portion of the collection, but it also includes billheads, blotters, bookmarks, business cards, catalogs, checks, envelopes, flyers, letterheads, newsletters, packaging, postcards, and stamps. This particular item advertised the implements from the Planet Jr. Cultivator line, manufactured by the Philadelphia-based S.L. Allen & Company.
Though it's now better known for its' line of Flexible Flyer sleds, the company was founded as a farm equipment manufacturing enterprise in 1868 by Samuel Leeds Allen (1841-1918). Over the course of his lifetime, Allen acquired over 300 patents for a range of farming and gardening equipment.
Allen began manufacturing sleds in the 1880s to keep his production lines busy in the summer; the manufacturing farming and gardening tools industry typically shut down for summer months in anticipation of low demand for its products during winter months.
S.L. Allen & Company continued to manufacture both sleds and farm tools like the ones advertised here after Allen's death in 1918,until it was acquired by the Leisure Group company in 1968 who dissolved the subsidiary in 1971.
The collection has not been digitized in its entirety, but you can view a selection of materials from the collection now in our Digital Archive - just click here!