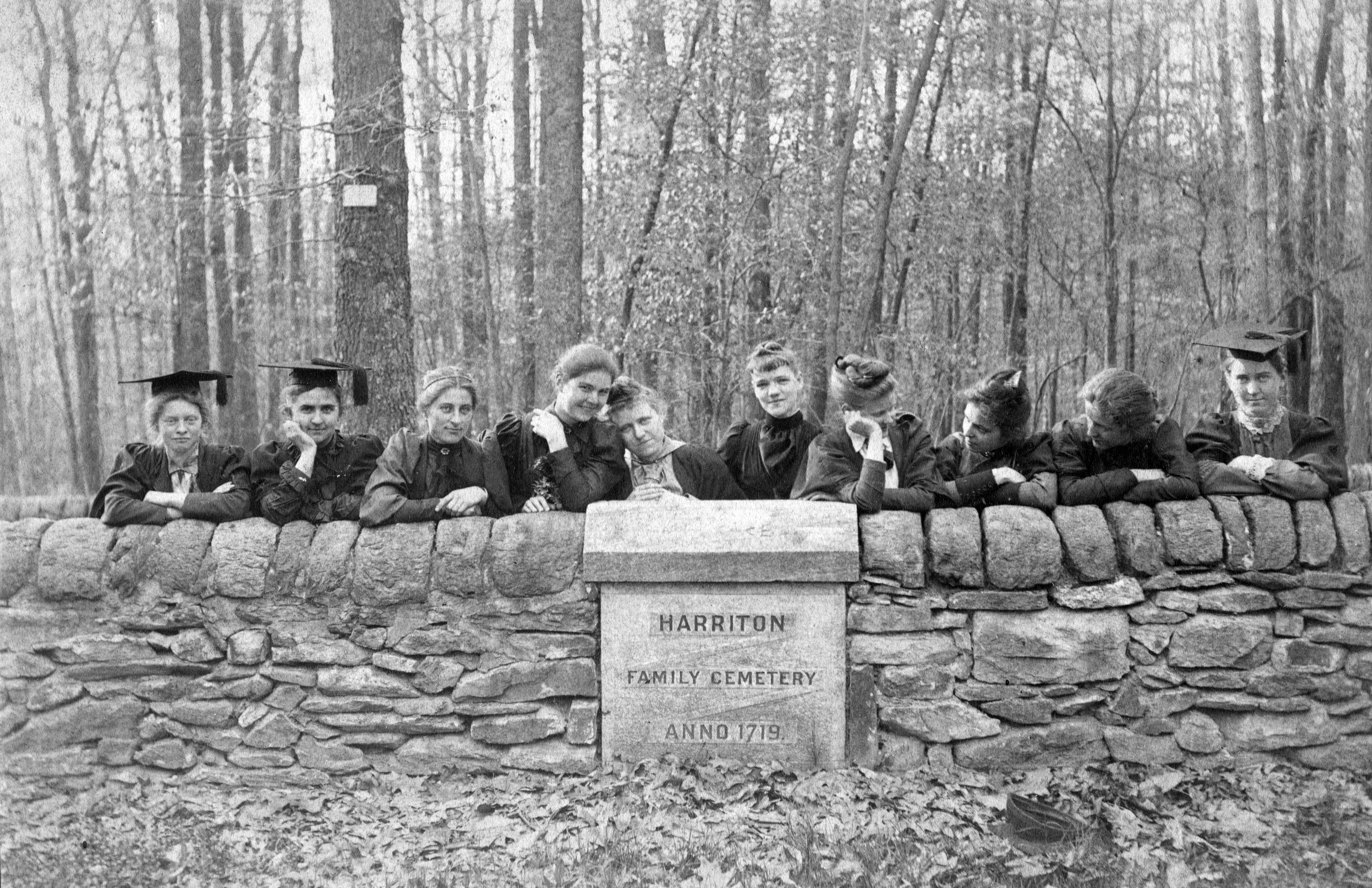 This ca. 1893 photograph shows the women of Bryn Mawr College gathered at the Harriton Family Cemetery. The college, founded by Quakers in 1885 in Bryn Mawr, Pennsylvania, was the first instition of higher education for women to offer a PhD granting graduate program. The cemetery plot was founded in 1719 by Richard Harrison, operator of Harriton Mansion Farm, the northernmost tobacco plantation reliant on slave labor in the American colonies.
In the years after Harrison's death in 1746, his 688-acre property grew increasingly subdivided as it passed through the hands of his descendants and later owners; portions of it later became part of the Bryn Mawr campus region. The cemetery in particular became a site of fascination for Bryn Mawr's students, whether as a "a favorite site of trysts" in the 1930s or a gathering space for young radical feminist witches later in the 20th century (much to the consternation of neighbors).
We're not sure what intentions drew these alumnae to the plot, but we do believe that the third woman from the right may be Alice Belin (1872-1944), which would explain its inclusion in Hagley Library's collection of P.S. du Pont photographs (Accession 1969.002). Belin and Pierre Samuel "P.S." du Pont (1870-1954) married in 1915. Both bride and groom were in their mid-40s and accomplished in their own right at the time of the wedding, which caused some public stir as it had to be held in New York state, due to local restrictions against marriages between first cousins (neither wanted children from the marriage and, while the marriage was by all account a happy one, both maintained separate bedrooms, bathrooms, and dressing rooms during their time together).
The daughter of a prominent family that had long been engaged with the du Ponts' family and business interests, Belin was a graduate of Bryn Mawr and was an active philanthropist who belonged to a number of prominent local social clubs. Her groom was the great grandson of Eleuthere Irenee du Pont (1771-1834), founder of E.I. du Pont de Nemours & Company. Active in the family business from a young age, du Pont played a hand in DuPont's early 20th century reorganizationa and transition into a large, complex, modern corporation. In 1915, the same year of the couple's wedding, P.S. du Pont became president of the company and was elected director of the General Motors Company, which at the time was near bankruptcy. Working with Alfred Sloan (1875-1966), he reorganized the company and in 1920 replaced William C. Durant (1861-1947) as president.
P.S. du Pont was involved in social issues and philanthropic concerns. In the 1920s he was a pivotal member of the Association Against the Prohibition Amendment. In the years between 1934 and 1941, he was a member of the American Liberty League, a coalition of mostly wealthy conservatives opposed to the New Deal of President Franklin D. Roosevelt. du Pont was also concerned with issues in his native state of Delaware; these included improving African-American education and building better roads, especially on Kennett Pike. The couple made their home in the the Peirce-du Pont house, also known as Longwood Mansion, a 200-acre estate in Kennett Square, Pennsylvania. Over time, they grew the site to include gardens, greenhouses, fountains, a ballroom, music room, an organ, and a theater. Prior to P.S. du Pont's death in 1954, he established a foundation to maintain the site as a public arboretum and botanical gardens, Longwood Gardens, which now attracts over 1 million visitors per year.
The P.S. du Pont photographs (Accession 1969.002) collection's page in our Digital Archive features nearly 7,000 images of items collected by Pierre S. du Pont during his life. These materials document the development of Longwood Gardens, the du Pont family, travel images, and a variety of other photos documenting the interests and activities of P.S. and Alice Belin du Pont, including more photographs of Bryn Mawr College dating from 1888 to 1893, presumably from Alice Belin du Pont's time attending there. Click here to visit it online now.