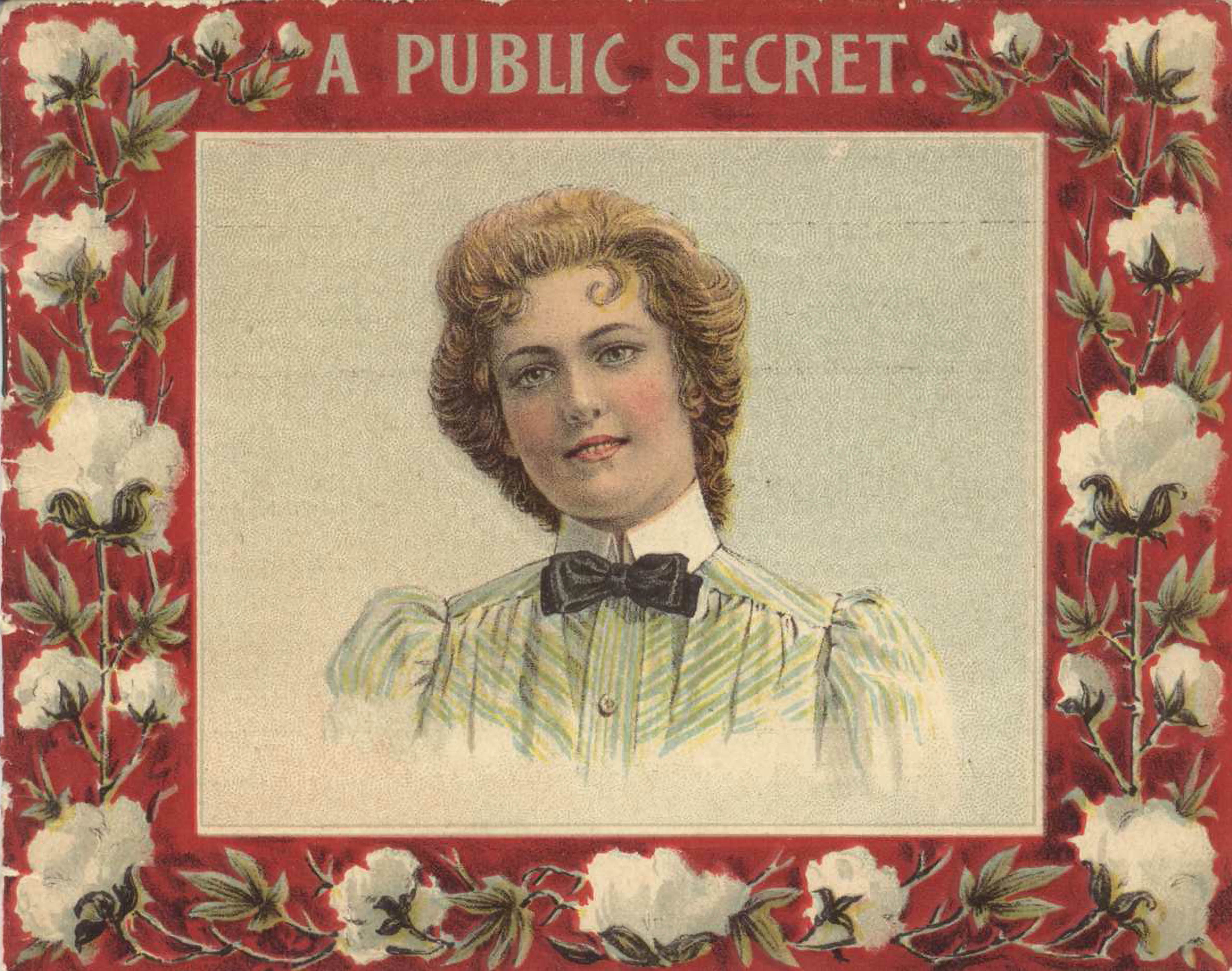 Can you keep a secret? Because I can't. So I'll tell you right now - this illustration served as the cover for A Public Secret, a ca.1900 advertising pamphlet for Cottolene, a brand of shortening made by the N. K. Fairbanks Company. The product, made from beef suet and cottonseed oil, was manufactured from 1868 until the early 20th century.
The pamphlet included instructions for cooking and frying with Cottolene, testimonials, and relayed the story, in poem form, of a "fair maiden" whose purchase of Cottolene brings her fame amongst her friends and leads to marriage.
This item is part of Hagley Library's collection of Carter Litchfield photographs and ephemera on the history of fatty materials (Accession 2007.227). Litchfield (1932-2007) was an organic chemist who studied and specialized in edible fats and oils. This career began at Proctor & Gamble; during the mid- to late 1950s, Litchfield worked for the company in its Edible Research Section of the Chemical Division, which produced and developed shortening products like Crisco and margarine oils.
After Litchfield left Proctor & Gamble in 1960 to take a job as a research scientist at Texas A&M, his interest in the field continued and he soon undertook studies toward earning a doctorate in organic chemistry with a focus on fatty oils like olive, linseed, soybean, cottonseed (all seed oils) as well as lard, tallow, and other animal body fats.
These studies would continue throughout his career. During a nine year career at Rutgers University, Litchfield studied fatty oils in marine mammals and aquatic sponges. During this time, he also founded Olearius Editions, a publication company dedicated to the history of vegetable oil and fat production. He would continue to operate as a publisher after his retirement from Rutgers in 1979.
In addition to writing and publishing about the history of fats and fatty materials, Carter Litchfield built an important collection on the subject. This collection of photographs and ephemera relates to Carter Litchfield's activities as a scientist, historian and collector of the history of fatty material.
This collection has not been digitized in its entirety; our Digital Archive offers a curated selection of items and primarily includes paper ephemera such as ration stamps, tax stamps, trade cards, pamphlets, and trade catalogs.