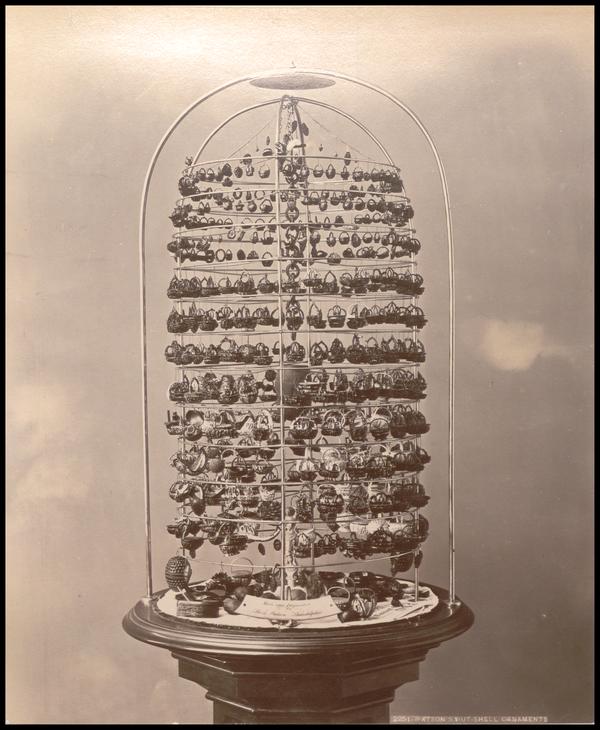 On this date in 1876, the Centennial International Exhibition opened in Philadelphia, Pennsylvania. The Exhibition was the first major U.S. world's fair and celebrated the one hundreth anniversary of American Independence. Held in Fairmount Park in Philadelphia, it welcomed nearly ten million visitors visitors during its run from May 10 to November 10th, 1876. The fairgrounds were made up of five main buildings, as well as some 250 pavilions and auxiliary structures, including twenty-four state buildings, which were each designed in a regional style. 
One of the many exhibitors to display their works at the Exhibition was Brock Watson, whose Watson's Nut Shell Ornaments fair display are seen here. Watson, a native of Philadelphia, was an undertaker by trade who the Centennial's catalog records as also being a carver of "fancy articles made from nuts and fruit stones; wood relics". This photograph is part of Hagley Library's collection of Centennial Exhibition photographs and ephemera (Accession 2003.255), which contains photographs, albums, scrapbooks, leaflets, pamphlets, trade cards, business cards, correspondence, sheet music, stationary, viewbooks and guidebooks, maps, posters, newspaper clippings, and other ephemera related to the Centennial International Exhibition.
This collection has not been digitized in its entirety, but our Digital Archive includes a selection of nearly 600 items and images curated from the Centennial Exhibition photographs and ephemera collection. Click here to view it online now.