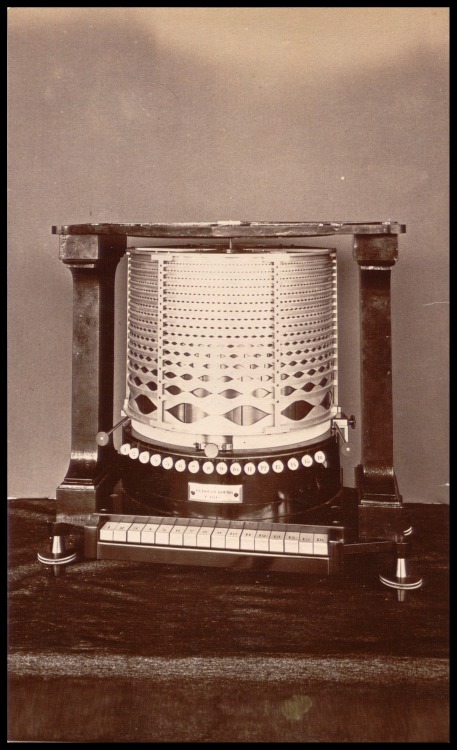 On this date in 1963, Bell Telephone began offering the world's first commercial service for an electronic push-button, touch-tone telephone. Service was initially limited to customers in the towns of Carnegie and Greensburg, Pennsylvania.
The concept behind the push-button telephone was not new to 1963, however. Various attempts at push-button dialing were made by telecommunications inventors dating to at least as far back as 1887. We're celebrating telephone technology today with this photograph of Rudolph Koenig's (1832-1901) 'telephone', which he exhibited at the Art and Industry section of Philadelphia's 1876 Centennial Exhibition.
Koenig was a Prussian physicist and instrument maker with an interest in acoustic phenomena. While some of the acoustic inventions that came out of his workshop in Paris are still used today, most notably his tuning fork designs, his unusual 'telephone' has not enjoyed the same longevity.
Part of a larger acoustical assembly that Koenig submitted as a 'Philosophical Apparatus' designed with the purpose of generating and analyzing sound. The apparatus was composed of, among other things, a 'Grand Tonometre' made of 692 tuning forks representing 800 tones. Despite its name, the telephone component of the apparatus was, in function, a wave-siren. By blasting air across the edges of the wave-forms cut on the gadget's moving cylinder, Koenig was able to use the 'telephone' to generate complex sounds whose pitch could be altered by changing the speed of rotation and wave-forms selected.
Despite the presence of Alexander Graham Bell's newly patented telephone (which was intended to work like a telephone), judges at the exhibition were apparently enraptured by Koenig's device, which brought home a gold medal and a judge's proclamation that "There is no other [exhibit] in the present International Exhibition which surpasses it in scientific interest".
This photograph is part of Hagley Library's Centennial Exhibition photograph and ephemera collection (Accession 2003.255). This collection has been partially digitized; you can view selections from it online now at our Digital Archive by clicking here.