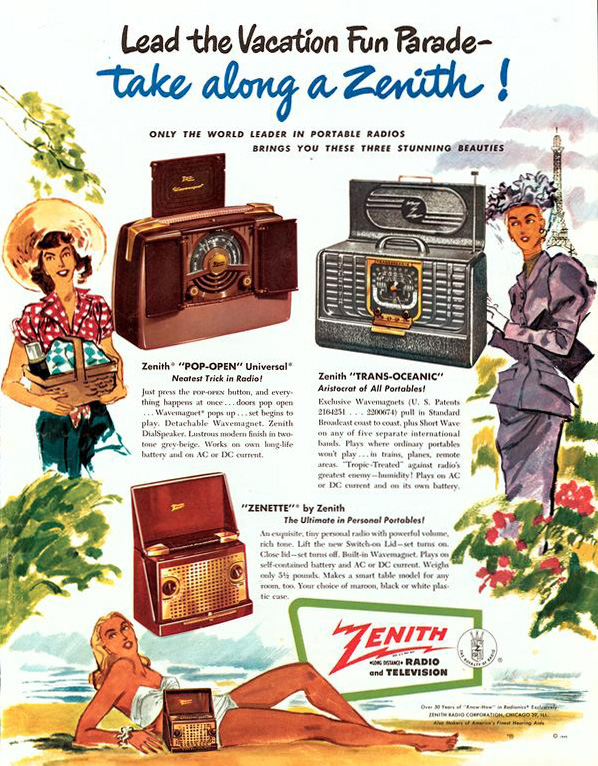 On this date, January 6th, in 1951, Zenith Radio Corporation (KS2KSBS) began experimental transmissions of the first pay television programming to a small group of test homes. The 300 subscribing families were chosen from a pool of 51,000 applicants in the Chicago, Illinois area.
During the 90-day test period, Zenith Radio Corporation sent a scrambled broadcast signal that could be unscrambled using a key signal sent to paying subscribers by telephone via the company's trademarked "PhoneVision" technology.
On this first day, the full-length features, each priced at $1, included April Showers starring Jack Carson, Welcome Stranger starring Bing Crosby, and Homecoming starring Clark Gable and Lana Turner. Despite selling over 2,000 programs during the first month of the experiment, the test was ultimately deemed to be commercially unsustainable, though the company would later launch various, also short-lived, PhoneVision services in the ensuing years in various markets.
We're marking this early precursor to Pay-Per-View programming with advertising for one of Zenith's more successful endeavors. This advertisement for the company's Trans-oceanic, Pop-Open, and Zenette portable radio models was sourced from a June 1949 issue of Collier's magazine. It is part of Hagley Library's John Okolowicz collection of publications and advertising on radio and consumer electronics (Accession 2014.277), a collection of digital access copies of materials related to radios and similar household electronics dating from 1912 to 1980.
The collection includes industrial magazines, annual reports, trade catalogs, pamphlets, and coloring books representing fifteen radio and consumer electronic manufacturing companies, as well as advertising tear sheets from 150 regional, national, and international publications representing over 300 corporate advertisers.
You can visit this digital collection now by clicking here to visit the collection's page in our Digital Archive.