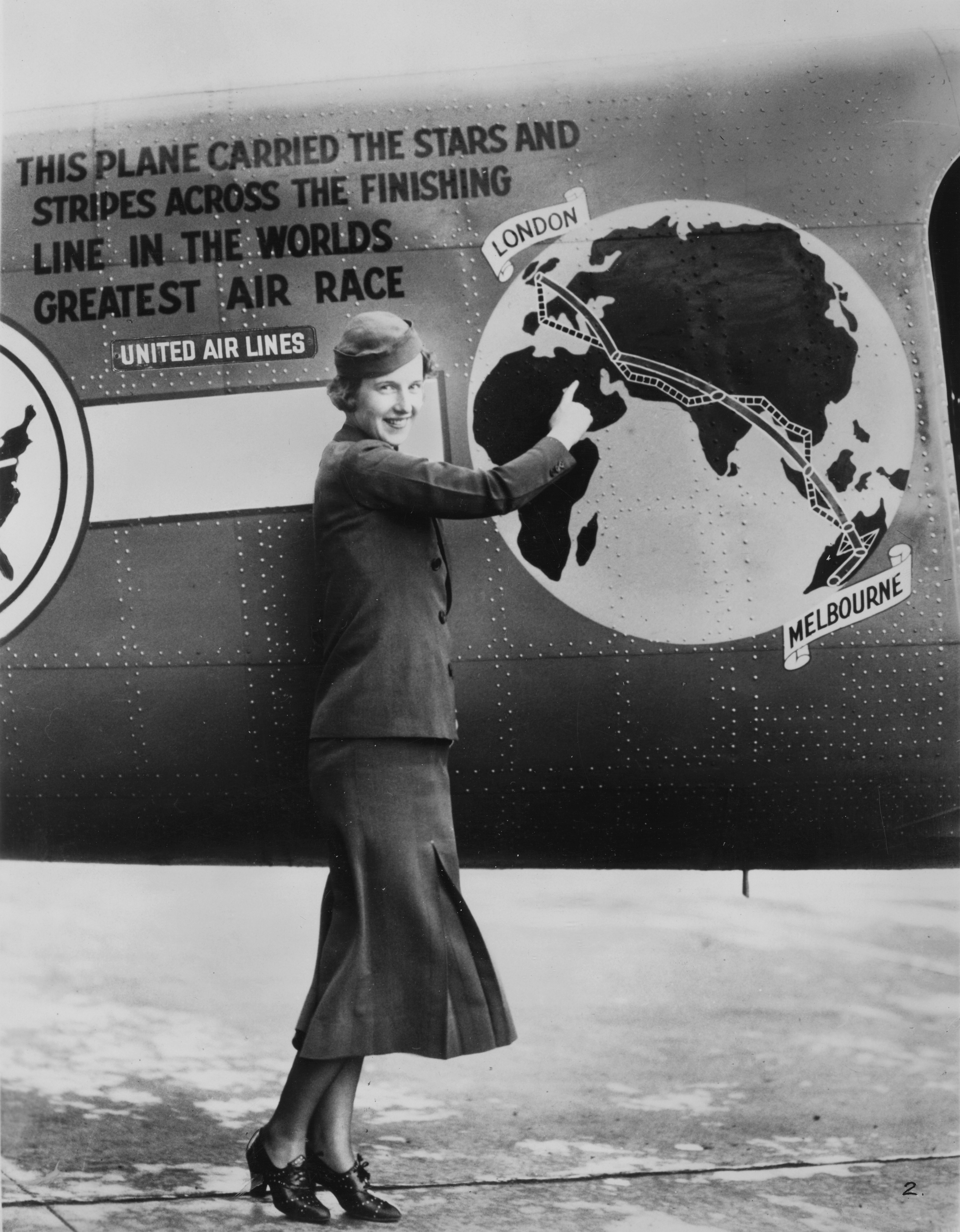 On this date, July 15, in 1916 U.S. Navy engineer George Conrad Westervelt (1879-1956) and industrialist William Edward Boeing (1881-1956) incorporated Pacific Aero Products in Seattle, Washington.
The aircraft company was renamed in 1917, becoming the Boeing Airplane Company, which operates today as the Boeing Company.
This 1934 photograph shows United Airlines flight attendant Clara Johnson with a Boeing 247-D twin-engined transport plane flown by Col. Roscoe Turner (1895-1970) and Clyde Pangborn (1895-1958) in the MacRobertson Trophy Air Race.
The race, which began on October 20, 1934 pitted twenty aircraft from Britain, the Netherlands, New Zealand, Denmark, Australia, and the United States against one another in a race from London to Melbourne. The contestants were vying for a £15,000 put up by the Australian Sir Macpherson Robertson, whose funds enabled him to name the race after his candy company, the MacRobertson's Steam Confectionery Works.
The plane seen here, which was capable of reaching speeds of 200-miles-an-hour, placed third, with an elapsed flight time of 92 hours and 55 minutes. The second place winner, flying for the Netherlands in a Douglas DC-2, finished in 90 hours and 13 minutes. The winner of the race was a British-operated DH.88 Comet, which finished in 71 hours.
Promotional text accompanying this image identifies the Boeing 247-D as being the "flagship of the new and faster Boeings which have been place in service on the New York-Chicago-Pacific coast route of United."
This photograph is part of Hagley Library's Lammot du Pont collection of aeronautical photographs (Accession 1975.360). The collection is the work of Lammot du Pont, Jr. (1909-1964), who assembled a large collection of books, manuscripts, prints, drawings and photographs relating to the history of aeronautics from the first balloon flights through the 1940s. You can view more digitized material from this collection on its page in our Digital Archive.